Britain close to redemption after plumbing depths
Published 11/21/2015, 2:14 AM EST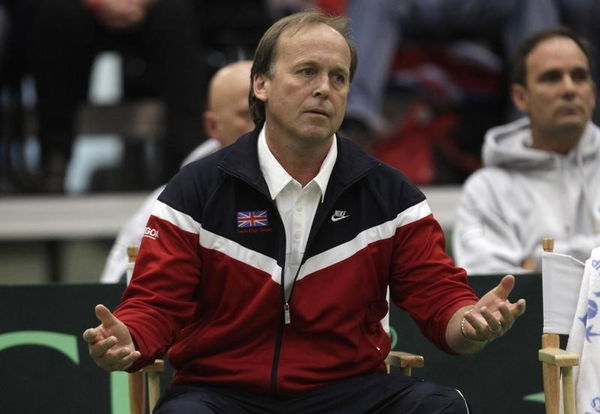 ---
---
By Martyn Herman
ADVERTISEMENT
Article continues below this ad
LONDON (Reuters) – John Lloyd will be in the commentary box when Britain face Belgium in next week's Davis Cup final, presumably sitting more comfortably than he was five years ago in Vilnius when the country's fortunes were sinking to a new low.
Then, as captain and with his team heading for a fifth-straight defeat, this time 3-2 against Lithuania, he could only squirm as a gloating fan goaded him about his job prospects.
ADVERTISEMENT
Article continues below this ad
"There was one chap who weighed about 20 stone and sat on three seats and had a very nice voice, but he started singing from very early on 'John Lloyd you'll be sacked in the morning'," Lloyd said in a BBC radio programme charting Britain's fall and rise in the prestigious team event this week.
"At one stage I wanted to get a ball and aim it at his head. I wouldn't have thought we had many worse matches than that."
There have been plenty to choose from, too, in the 37 years since Britain last reached the final, against the U.S. when former Australian Open runner-up Lloyd was demolished by a rising force named John McEnroe.
There was a 5-0 defeat in Slovakia in 1995 that sent Britain into a Group Two relegation playoff against mighty Monaco and a home defeat by Ecuador in 2000 when rookie Giovanni Lapentti, playing his first match on a grasscourt, sealed their fate.
Or even the humiliating 4-1 home defeat by Zimbabwe in 1997.
Take your pick.
Captains have come and gone and a succession of willing but limited players have tried and failed to put Britain on the tennis map they dominated until 1936 when they won their ninth, and most recent, Davis Cup title.
Even Tim Henman and Greg Rusedski, both top-10 players, could not inspire a Davis Cup challenge and until Britain beat the U.S. in 2014 they had gone 28 years without a World Group win.
It has been an interesting journey through the tennis wilderness though, nowhere more so than in Odessa in 2006 when the visiting British team, which included Andy Murray, was given a changing room that doubled as a brothel.
"The only one who I had to explain it to was Greg (Rusedski)," Lloyd recalled of that win in Ukraine. "He didn't know why there were mirrors on the ceiling and all that stuff."
Since then, Murray has gone on to become one of the best players in the world, winning Wimbledon and the U.S. Open, and has led Britain almost single-handedly to next week's Davis Cup final in Ghent where they start as favourites.
INTREPID BATS
Tennis hacks and success-starved fans are still pinching themselves because not so long ago the idea that Britain would be challenging the likes of Spain, France, Switzerland and the United States would have seemed laughable.
Yet, despite all the tales of woe, the intrepid bunch who call themselves BATS (British Association of Tennis Supporters) have stayed loyal, following the team through thick and, mostly thin, and often playing unexpected roles.
Founder member Amanda Shepherd watched her first match in the 1978 semi-final against Australia at Crystal Palace and travelled later that year to the final at Mission Hills in California where she found herself acting as a ball girl in training sessions.
It also led to a job as a travelling nanny for a succession of top players including Stan Smith and Brian Gottfried.
"(1978 captain) Paul (Hutchins) would call me Sherlock as I always managed to work things out," Amanda, who has worked at the Wimbledon championships for 30 years, said.
"Buster Mottram turned up in a pair of scruffy shoes once and Paul sent me off on a Sunday to find some shoe whitener.
"Another time there was a problem at the Foro Italico in Rome with my accreditation and David Lloyd was arguing with a policeman who pulled out his gun."
Sue Ward, another of the club's 1,000 or so members and its treasurer, also has reason to remember the match in Odessa.
ADVERTISEMENT
Article continues below this ad
"There were only three British fans," she said. "It was a hard place to get to in those days and I went via Hungary and ended up on a flight where every other passenger was a rabbi attending some kind of convention."
Britain's long and winding road back to Davis Cup respectability arrives in Ghent next week.
And Hutchins, who was captain for 31 ties, believes Murray will seize the opportunity.
ADVERTISEMENT
Article continues below this ad
"I think he really wants it," Hutchins said. "He has the money, two grand slam trophies, but something like this may only come around once in a lifetime."
(Editing by Rex Gowar)