Browns demote Manziel after partying video
Published 11/25/2015, 4:38 AM EST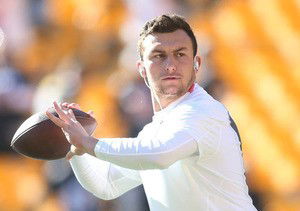 ---
---
(Reuters) – Johnny Manziel's reign as starting quarterback for the Cleveland Browns proved short-lived as the National Football League club demoted him on Tuesday one day after a partying video of him hit social media sites.
ADVERTISEMENT
Article continues below this ad
Browns coach Mike Pettine said in a statement issued by the team that veteran quarterback Josh McCown would start Monday's game against the Baltimore Ravens and would be his starter "going forward".
Manziel, known by the nickname "Johnny Football" from his standout collegiate years at Texas A&M, had been named the Browns' starter for the rest of the season after throwing for 372 yards in a loss to the Pittsburgh Steelers on Nov 15.
ADVERTISEMENT
Article continues below this ad
The quarterback change was decided after a series of photos and videos surfaced on Monday of Manziel allegedly partying last weekend in Texas during the team's bye week.
Manziel's erratic off-field behaviour has been an issue with the Browns (2-8) since he was drafted in the first round of the 2014 NBA Draft.
The 22-year-old Manziel spent 10 weeks in a treatment facility during the offseason for undisclosed reasons and last month he was questioned by police after witnesses reported him driving dangerously and getting physical in an altercation with girlfriend.
Manziel was cleared of any wrongdoing in the incident.
"Everyone in this organisation wants what is best for Johnny just like we do for every player in our locker room," Pettine said in the statement.
ADVERTISEMENT
Article continues below this ad
"I'm especially disappointed in his actions and behaviour because he has been working very hard."
In limited action last season, Manziel completed 18 of 35 passes with no touchdowns and two interceptions.
"The improvements from last year to this year have been tremendous but he still has to consistently demonstrate that he has gained a good understanding of what it takes to be successful at the quarterback position on this level," said the coach. "It goes well beyond the field.
ADVERTISEMENT
Article continues below this ad
"We are going to continue to support him in every way possible, but at this point, we've decided it's best to go with Josh as the starter going forward."
(Reporting by Larry Fine in New York; Editing by Mark Lamport-Stokes)