Build up to Champions League Final in Quotes
Published 06/05/2015, 6:00 AM EDT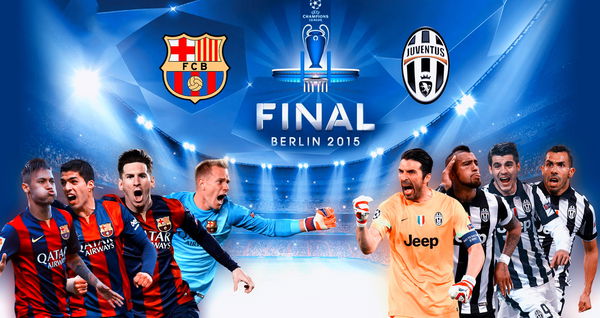 Barcelona, Juventus – two of Europe's best teams this season are all pumped and geared up ahead of this season's epic finale, the Champions League Final. With the "Messi Neymar Suarez" or the MSN fear being spoken about, the ever reliable defensive partnership of Bonucci-Chiellini and a last chance at glory for greats like Xavi, Buffon and Pirlo. Let's look at what famous football players and pundits have to say about this showdown.
ADVERTISEMENT
Article continues below this ad
ADVERTISEMENT
Article continues below this ad
"It would be great for Italian football if Juventus could win it. I didn't think they'd get through against Real Madrid, but they did and now they will believe they can go all the way. It will be tight, but I will go 1-0 for Juventus." – Michael Ballack
"I don't know when they will retire, but it would be fantastic if two players like Buffon and Pirlo could succeed in triumphing together in the Champions League. They are the champions of everybody who loves football." – Eden Hazard
"You try to control Messi with spaces, looking at where he can get to and where he is dangerous.But he moves inside and outside, down the wing, on the left. It's very difficult to think about controlling a player who is uncontrollable. It's ridiculous – there's no way." – Diego Simeone
"Barcelona are on another planet right now and will be hard to stop." – Sandro Di Michele.
 "If Barcelona are allowed to play their game – that means nice football in an attacking way – with nice moments from Messi and Iniesta then I hope Barcelona win. But I lived for 10 years in Italy so I am half Italian. I hope that for the Italian people, Juve win the Champions League. That would be good for Italian football. But mainly I hope the best team wins the cup." – Marco Van Basten
ADVERTISEMENT
Article continues below this ad
"What do I think about when I see that front three? Applauding! No, obviously the front three scare anyone but Barca isn't just those three up front but a collective of footballers which play for each other. That's why we have to be perfect in defense because we also have weapons to hit them with and do them harm." – Leonardo Bonucci
"Messi makes the difference more than any other player. If Juventus are able to limit his actions then they have every chance. In any case, we are speaking about a final, a one-off game, so anything can happen." –  Marco Materazzi
ADVERTISEMENT
Article continues below this ad
"Everybody defended very compact with two lines of four and then they had very fast players up front to counter-attack and use the space that Barca leave behind their defence. That is the way to unsettle Barcelona." – Guillem Balague

"If you see the teams, you say that 'Juve is the underdog.' I can handle that. But if they reached the final, it's because they have very deep strength inside. They are very strong team – compact." – Alessandro Del Piero