Burnley vs Arsenal: Talking Points
Published 10/03/2016, 1:05 AM EDT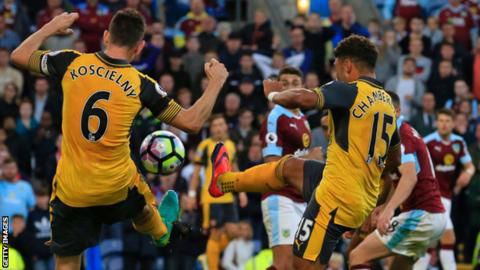 ---
---
Arsenal travelled to Turf Moor in search of a 5th consecutive league win. With a Burnley side up against them, Arsene Wenger and his men were expected to cruise to 3 points at the end of 90 minutes to cap off the 20 year milestone for Arsene Wenger at the club. But what we witnessed was a very different game and twists and turns until the last kick of the game.
ADVERTISEMENT
Article continues below this ad
Arsenal scrapped through to a win under controversial circumstances and we take a look at the major talking points from the encounter at the Turf Moor.
ADVERTISEMENT
Article continues below this ad
THE HAND OF KOSC
Without doubt, the biggest talking point from the match definitely is the goal scored by Arsenal right at the end. Alexis Sanchez's cross was flicked on by Theo Walcott and after a scramble between Oxlade-Chamberlain and Koscielny, the ball rolled over the line, clearly after making contact with the Arsenal skipper's hand.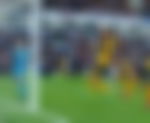 The whole Burnley side surrounded the referee pleading for a decision in their favor, but that was literally the last kick of the game and Arsenal scraped through to a narrow but a very important win.
The 3 points will come in more handy as both the Manchester sides lost points earlier in the day.
While the goal will be talked for a few days to come, many are also of the opinion that Koscielny had no chance to get his hands out of the way as he was just inches away from Oxlade-Chamberlain making contact. However the replays clearly show that Koscielny made a clear though unintentional contact with his hands and Burnley were unlucky to lose the match in such a manner after holding on for such a long time.
ARSENAL ARE STILL A STRIKER SHORT
Arsenal's search for striker, still has not reaped any results. After a slow couple of games to start off the campaign, Arsene Wenger seemed to have found a solution to his problems up front as he has given the goal scoring responsibilities on Alexis Sanchez.
Arsenal have scored an impressive 16 goals in the opening 7 games and Alexis has scored 4 of those. But a somewhat dry exchange of play and overall a disappointing match has emphasised on the fact that Alexis is still more of a winger and that Arsenal are still actually short of a Henry-esque striker up front.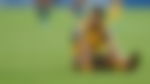 Arsenal had a total of 19 attempts and out of these only 3 were shots on target and one eventually went off the woodwork. Arsenal, in their typical fashion nearly made thrice as many passes as Burnley but their inability to kill the game off by creative penetrative chances and taking them nearly cost them 2 points.
With Olivier Giroud eagerly waiting in the sidelines, Wenger might well think about his options up front and should realize if the current set-up could with-stand the long and testing Premier league season.
MICHAEL KEANE'S PERFORMANCE
Everybody knew that Burnley were up against a very formidable Arsenal side who are high in confidence after a string of impressive performances. And the Burnley team almost earned a point after seeing off waves of pressure from the Arsenal side. One name that did catch the eye in the Burnley defence was that of a young Englishman, Michael Keane.
Keane had earned the name of a future national team prospect, right from his time with the Manchester United youthsides. And with a move away from Old trafford in search of regular playing time has seen him arrive at Turf Moor. And he certainly was a big plus for Burnley in their defence.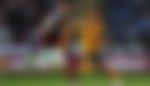 The 22 year old Englishman was strong in defence and had his moments in the attacking set-up as well.
He finished the game with a pass percentage of 88%, and along with his solid display at the back, was unlucky not to be on the score sheet as well. With Arsene Wenger prefering the more pacey attacking players over the sort of target man Giroud, Keane had a tough job up against him. But he impressed with his defensive capabilities with 6 clearences, and winning the duels and the aerials.
Burnley also benefited from his capabilities on the ball as he completed nearly 22 passes from the back which included a few effective long balls.
Going ahead, Michael Keane will be a very important component in the Burnley defence and their fight to keep hold of their Premier League status.
BURNLEY NEED GOALS
Burnley won the Championship last season in convincing fashion and earned a return to the Premier league. Right from that moment itself, it was evident that they will have to put in a big fight to keep hold of their Premier League status. And that is exactly how the start of the season has turned out for Burnley. While they came into their Premier League with an impressive defensive record in the Championship, their attacking prowess was a big question.
Their performances in front of goal is something that will play a vital role in deciding their Premier League status come the end of the season. And as things stand so far in the league and also going by this game, Burnley must have a drastic improvement regarding this.
Burnley had a total of 11 shots, but only a single one of them was on target. Vokes had arguably the best chance of the first half and probably should have put Burnley in the lead. But that chance was also missed and Burnley didnt seem to have enough in them to find the back of the net. Burnley have scored just 5 goals from the opening 7 games and an off field controversy, keeping their top scorer from their Championship campaign Andre Gray out for sometime is not at all helping their cause.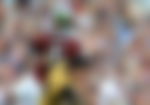 Though the likes of Defour and Sam Vokes look promising on paper, they have yet not showed enough to make people believe that they can score their way to safety this season.
ADVERTISEMENT
Article continues below this ad
And as teams in the past have shown, if you do not have enough goals on the board, winning points becomes that much more difficult.
Burnley have a big task to work on and they must somehow find some goals from somewhere in the coming months if they are to have any chances of staying up this season.
ADVERTISEMENT
Article continues below this ad