Call of Duty Black Ops Cold War: Quitters Will Be Punished
Published 04/04/2021, 11:31 AM EDT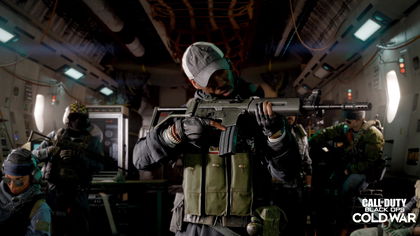 ---
---
The Season Two Reloaded update for Call of Duty Black Ops Cold War has already brought considerable changes to the game. However, Treyarch is putting all efforts to better the game, the latest of which is an attempt to stop players from quitting mid-way through a match.
ADVERTISEMENT
Article continues below this ad
Players of the game were growing frustrated with quitters. Ranked matches make all the difference in Black Ops Cold War and with players struggling to stay on the top of the table, every win counts.
As there were no punishments for leaving previously, a lot of players faced setbacks. In any given ranked match, a teammate leaving would only affect the whole team. But now, all that is about to change as Treyarch will be handing out suspensions for any players resorting to such means.
ADVERTISEMENT
Article continues below this ad
League Play updates:

• Law Breaker no longer supports two primary weapons
• Perk Greed now restricted
• Escalating match suspension penalties for friendly fire and quitting mid-match
• Visual updates for Ladders, brackets, and rank screens pic.twitter.com/crJ1mnD8wx

— Treyarch Studios (@Treyarch) March 29, 2021
The latest league play update also brings in visual updates for ladders and screens. The developers have also restricted Perk greed. Although the updates may not be big in number, it does bring about a vast change in gameplay.
That is not all the changes that Treyarch has brought in the new update. They have fixed numerous bugs and stability issues while also adding in a new operator bundle.
Black Ops Cold War also boasts some new features now in the form of player inspect, card showcase and set as favorite mode. Certain gameplay bugs were also fixed with the patch update.
Read – Call of Duty Black Ops Cold War: Breakdown of the Latest Patch Notes 
This week, players are introduced to a new Gunsmith custom mode. This mode allows players to create, name and save their own blueprints of the same weapon type. Additionally, a new ZRG 20mm Sniper Rifle will also be up for grabs in the game.
ADVERTISEMENT
Article continues below this ad
Treyarch still needs to improve the latest Call of Duty title
Treyarch may be focusing on improving the game by miles. Even then, there is an underlying problem that hasn't been addressed. The return of the stim glitch has caused a major issue for players.
Several have taken advantage of the glitch to win matches and the community has been desperately asking for a fix. The developers did believe they fixed the issue in the past but somehow, this particular glitch always finds a way back.
ADVERTISEMENT
Article continues below this ad
With Treyarch working on multiple changes and improvements, it won't be long before we see a fix for this as well.