Call Of Duty League: 5v5 Versus 4v4- A Discussion
Published 09/04/2020, 12:26 PM EDT

Follow Us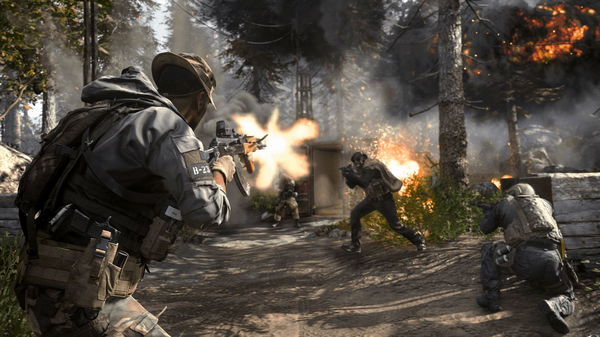 Call Of Duty League recently announced a change in its format. The League is going to return to the traditional 4v4 format. The 5v5 format changed happened during the Black Ops 4 era. It stuck around during Modern Warfare as well. Since its inception, COD Championships had been played in 4v4. This massive change in the format was announced just after the end of the 2020 League.
This move has led to many pros and coaches to comment on what is going to happen next. Quite naturally the roster changes are the first thing that came to everybody's mind. Dallas Empire dropped Clayster just a day after the team was crowned winners. Clayster is a COD veteran who now has three Championship wins to his name. Therefore, this move left many heartbroken but with the format change, this was more than expected.
I think that no matter how I feel now, it was gonna go to 4v4 regardless. I've been the odd man out since the start (Xeo + the GOAT) so I realistically shouldn't feel too bad. I put myself in the best position to see continued success next year, and hopefully get a bangin team.

— Empire Clayster (@Clayster) September 2, 2020
ADVERTISEMENT
Article continues below this ad
How the 4v4 change will affect the Call Of Duty League
Apart from the roster changes, we are looking at a number of scenarios where gameplay will be affected due to 4v4. Most pros are in fact happy with the change. This is because 4v4, unlike 5v5, is actually how COD multiplayer is designed to be played. Further to that, even for the spectator, 4v4 is less chaotic to watch.
ADVERTISEMENT
Article continues below this ad
Apart from the spectator perspective, 4v4 will bring back the strategic gameplay to COD. The run and gun scenarios will be a lot less. Whether it be respawns modes or S&D, the gameplay will be a lot slower than usual. Teams will not focus on the Firstblood trope but more on enemy locations.
Secondly, 4v4 is less trade-heavy. This means unlike 5v5, teams will not trade kills as much as before. Players will be further spread out on the map. Individual gameplay is of much more importance now. Spectators can enjoy more clutches from their favorite pros. The rushes to plant the bomb will be a lot lesser during the offense.
Also, this will change team dynamics. Usually, in a 4v4 team, there are two ARs and two SMG players. But they tend to a lot more flexible than 5v5, therefore a mix of one AR and three SMGs can also be found.
ADVERTISEMENT
Article continues below this ad
As 4v4 has been the age-old traditional mode for Call Of Duty, rookies who have joined the pro scene recently have years of gameplay to watch and learn. It will be interesting to witness what will change with Treyarch's new COD and the new format going into League in 2021.
Watch this space for more Call Of Duty news.