Call Of Duty League: Atlanta To Los Angeles- Standings before Playoffs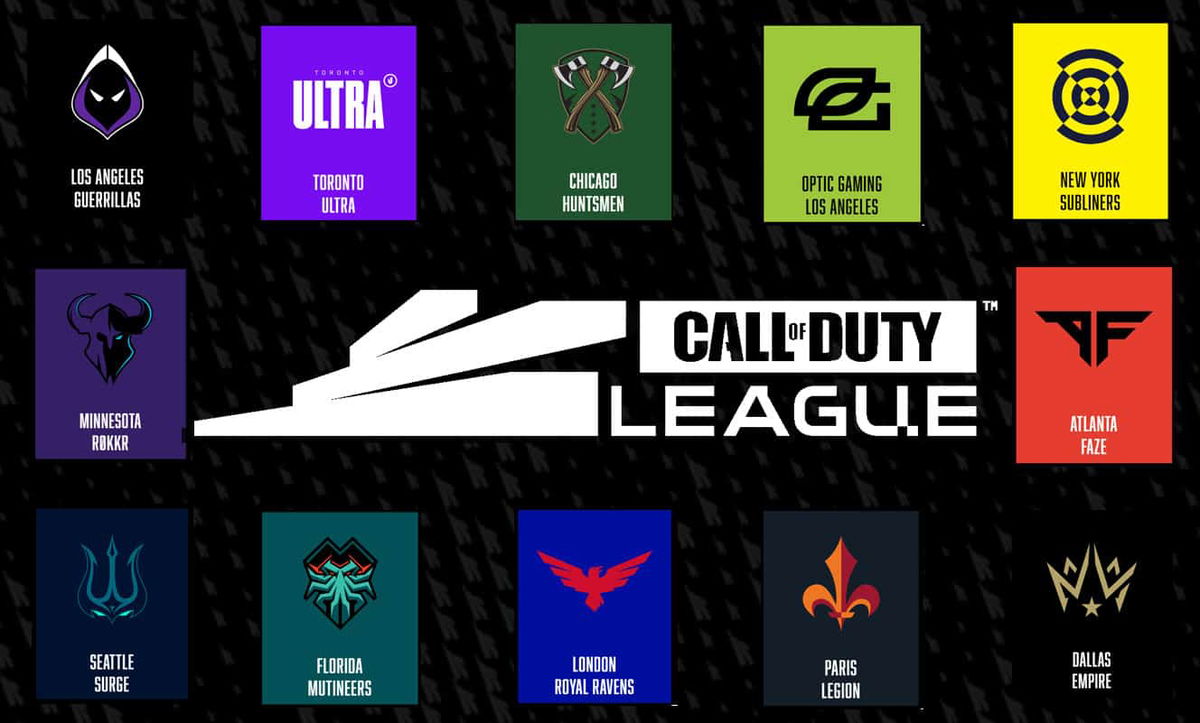 Essentially Sports
Call Of Duty League 2020 is currently in its inaugural season. We have come a long way from the Launch Event to the last Home Series that being Toronto Ultra's. Yet it is not the end. The Playoffs start late mid-August and continue to the final Championship event. 12 teams will fight for the ultimate spot. At the end of Toronto's Home Series, we got the official seedings for each team. The seedings determine where each team will be 'planted' in the Playoffs. The Playoffs will be played in the Elimination Knockout format. Hence, there will be teams in the Loser's bracket and Winner's bracket. Placement positions also determine how many games each team will play. In this article, we will go through each team and their official position before the Playoffs.
Call Of Duty League 2020 Seeds
From the official rankings by CDL League here are the top 12 teams from bottom to top:
 Los Angeles Guerrillas– This team, unfortunately, finished last in the League. They had more 0 point tournaments than any other team. Los Angeles made it out of Group Stage only once in the season. They will start the Playoffs from the losers' bracket. Players to look out for are Aqua and Decemate.
🔥🔥WELCOME @Decemate 🔥🔥 pic.twitter.com/D6ce5fk8o2

— Los Angeles Guerrillas (@LAGuerrillas) November 1, 2019
Seattle Surge– It was getting all tied up in the last spot between Surge and Guerrillas. They are 11th seeds this season for the reason that they got their maximum victories against Los Angeles. At last Home Series, they were expected to make a comeback but fell short. Surge start the Playoffs from the loser bracket. Players to watch out for are Octane and Apathy.
👋👋@DKarma @Enable @OctaneSam @Slacked @Apathy_BZ @JoeyNubzy

Welcome to Seattle. pic.twitter.com/22RMjbNdwp

— Seattle Surge (@SeattleSurge) October 21, 2019
Minnesota Rokkr- Rokkr is the 10th seed of this inaugural season. They started excellently in the first half of the season. They looked powerful and dominated most maps. Yet by the end, they lost points one after another letting the top spots slide. In the last Home Series, they almost clutched up with very close games but fell short to the top placed teams in the league. They start from the winner's bracket. players to look out for are Silly and Assualt.
FINALIZED ROSTER
pending league approval pic.twitter.com/N6UO0un0ef

— Minnesota RØKKR (@ROKKR) October 24, 2019
Paris Legion- In the 9th position is the team from France. Paris started their season not too strong but did get some close finishes. In their last Home Series in London, they popped off grabbing the second spot. They stayed out of the Toronto series and hoped for Chicago or Seattle to clutch up. Unfortunately, that didn't happen so they start from the loser's bracket. Players to watch out for are Louqa and Shockz.
Votre équipe Call of Duty Paris
En attente de validation par la ligue

🇦🇺 @MF_Louqa
🇦🇺 @MF_Shockz
🇦🇺 @DenzJT
🇺🇸 @KiSMET6_
🇺🇸 @PhantomzTheGod
🇬🇧 @ZachDenyer
🇫🇷 @Breszyy pic.twitter.com/vsmBlrWxvQ

— Paris Legion (@ParisLegion) October 3, 2019
Optic Gaming Los Angeles- At number 8 is the other team from Los Angeles. During the season they changed their roster here and there. Optic would have made to the top seeds if Toronto did not win their own Home Series. Players to watch out for are the absolute beasts Drazah and Hollow.
The new guys @hollow412 and @Drazah_ cleaning it up in this Game 5 👊🏼#OGLA // #CDL2020 pic.twitter.com/o2vIaEiwfn

— OpTic Gaming™ (@OpTicGaming) July 25, 2020
London Royal Ravens– The 7th placed Ravens sat out the last Home Series in Toronto. They had decent mid-table finishes throughout the season. They choked in the semis of their own Home Series to Paris Legion. Time and again they have proven they can upset top league teams. The London Royal Ravens will start the Playoffs from the winner's bracket. Players to look out for are Dylan and Skrapz.
This week on the Ravens Recap, we look back at some of the best highlights from our second Home Series event and sit down with @Trei to get his thoughts on the event and #CDL2020 Champs.

Video Powered by @HyperX

FULL VIDEO: https://t.co/3IwHhK40eR pic.twitter.com/aSikOZqByU

— London Royal Ravens (@RoyalRavens) July 23, 2020
Read more- Call of Duty League Starts Video Series Teaching Gameplay Strategies
Toronto Ultra– Coming in hot at number 6 is the winner of the last Home Series, Toronto. They defeated favorites Atlanta FaZe and made sure to clutch up a top seed spot in most tournaments. Toronto did change their roster too many times into the season. Cammy and Methodz have shown time and again how dangerous they are.
Who will you choose? Here is a hint, their names are @CammyMVP & @Methodz!

Your boys have been nominated for the @ScufGaming Team of the Year 🎮 🥇

Voting is LIVE and ends August 16th 👇https://t.co/hamCaqQtxC#SooUltra | #CDL2020 pic.twitter.com/S74QIM5xUo

— Toronto Ultra (@TorontoUltra) August 11, 2020
New York Subliners– Placed 5th in the League, New York Subliners look hungry to win. They started slow but picked up really hard after Mack entered the team. Their clutch gameplay and quick rotation techniques give them the edge they need to win. NYSL won their own Home Series before the pandemic break. Finally, they face Minnesota in the Playoffs. Players to watch out for are Attach and Mack.
All eyes on CDL Champs.@Attach opens up about the London Home Series, moving past an off weekend, and shifting their focus toward Champs. This is our Road to Glory, presented by @MetroByTMobile. #NYSLRuleYourDay pic.twitter.com/BqpXTm7q5d

— NYSL (@Subliners) July 24, 2020
Chicago Huntsmen– Finishing 4th is the 'God Squad' Huntsmen. Anybody who looks at their roster should feel scared. All the names are of Champs and legends of COD. Yet the Huntsmen fell short to Toronto in the last series. Not too much of a worry they had enough CDL points for a one-round bye to the winner's bracket. Players to watch out for: typically everyone from Formal to Scump. Special mention newbie Envoy.
Dylan on the Uzi… that's the tweet. pic.twitter.com/X6iWe5QTZz

— Chicago Huntsmen (@Huntsmen) June 13, 2020
Florida Mutineers– Florida looked up and about with their in form 3 CDL series win this season. Finally, when it came down to the last series, Florida was stopped by Dallas. They might be disappointed with that but they still finished the top 3 and await either London or Toronto in the Playoffs. Players to look out for are Skyz and Fero.
The hope for a third consecutive Home Series win stays alive for @Mutineers as they 3-1 @OpTicGaming Los Angeles in the London Home Series.

Florida move on to CDL Sunday to face @DallasEmpire.#FearTheDeep | #CDL2020 pic.twitter.com/2El4BbGBHZ

— Call of Duty League (@CODLeague) July 19, 2020
Dallas Empire– In addition to never finishing outside of the top 4, Dallas is also top 2 in the League. Furthermore, they are the second team with Call Of Duty League victories. Their captain Clayster is the oldest player in the league. They start the Playoffs all clear in Winner's round 2. Players to watch out for are Shottzy and Huke.
The @DallasEmpire stop the bleeding on Domination with a huge 196-123 victory.@TorontoUltra still up 2-1 as the series rotates to the second Hardpoint: https://t.co/HJOPkHUMQ3#BuildAnEmpire | #CDL2020 pic.twitter.com/sOvRdDWFWe

— Call of Duty League (@CODLeague) July 26, 2020
Atlanta FaZe– The numbers say it all. They have the highest average placing in the 2020 season. They also boast the highest map win rate with a high 79%. The meta shifts have been problematic for the team but still, they managed to grab the top spot in the seeds. Thus, Atlanta waits in the Winner's round 2 as the current favorites. Players to watch out for are Simp and Cellium.
Down. To. The. Wire. 😬

No better feeling than a CLEAN 🧹on a Saturday afternoon, after an explosive finale of the Gun Runner Dom versus @DallasEmpire in this week's @ScufGaming "Impact Play".

CHAMPIONSHIP SUNDAY VIBES BABY #EZAF | #TeamSCUF pic.twitter.com/GffKrMJEVU

— Atlanta FaZe (@ATLFaZe) July 25, 2020
Call Of Duty League Playoffs begin 19th August.