Call Of Duty: Warzone Developers Lash Out At Hackers – Ban 70,000 Players
Published 04/14/2020, 8:54 AM EDT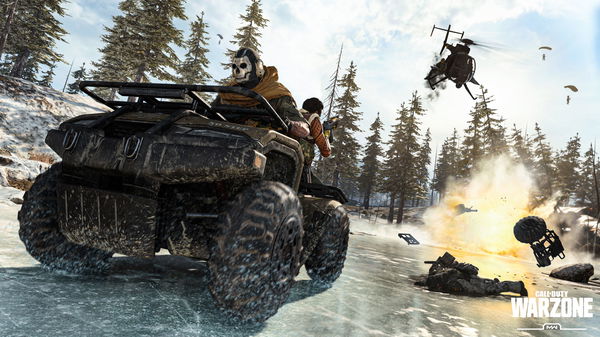 ---
---
After its release in March, Call of Duty: Warzone has been on a constant upwards trajectory. On April 10, which marked the one-month anniversary of the game's release. Activision announced that Warzone had reached a milestone of 50 million registered players.
ADVERTISEMENT
Article continues below this ad
Along this course, there has been one significant obstacle for Warzone. It became the latest victim in a list of battle royale games that are overrun by cheaters who use hacking software such as aimbot and wallhack. Cheaters bombarded the game so often in such numbers that hotshot gaming influencers are getting irritated. It mars their gameplay and sours the gaming experience. 
But Infinity Ward and Activision haven't held back either. They acted swiftly by permanently banning 50,000 such accounts. Now, just a week later, that number has leaped up to 70,000, which highlights that tackling cheaters is one of their top priorities.
ADVERTISEMENT
Article continues below this ad
Infinity Ward Not Holding Back As Cheaters Are Rampaging
Infinity Ward had a message to convey on their official Twitter handle regarding their stringent actions.
We've now issued over 70,000 bans worldwide to protect #Warzone from cheaters. We're continuing to deploy dedicated security updates and work continues on improving in-game reporting. We'll share more details soon. We are watching. We have zero tolerance for cheaters.

— Infinity Ward (@InfinityWard) April 13, 2020
Players and gaming influencers should receive this announcement favorably. Especially those who have had the disappointment of encountering cheaters or hackers in Call Of Duty: Warzone.
It is in this first update the studio has mentioned banning cheaters since last week. This underlines their focus on fighting such malice practices. They have implemented a more robust system for distinguishing cheating accounts.
ADVERTISEMENT
Article continues below this ad
Ever since the new battle royale was released and the first cheater spotted in-game, lots of prominent streamers have voiced their unrest on this issue online which has irritated them.
What Are The Streamers' Take On Cheaters In Warzone
DrDisrespect previously said, "I'm really happy with Warzone, minus the hackers."
ADVERTISEMENT
Article continues below this ad
Ninja expressed his concerns on this issue earlier this month on Twitter. Meanwhile, Nadeshot was skeptical of Activision's policies in dealing with cheaters.
CouRage is another gaming influencer who has actively voiced his unrest. He talked about how he had to deal with cheaters frequently while live-streaming Warzone. He even went on to mention on his Twitter that he is 'willing to pay Activision/Infinity Ward/Call of Duty $10,000' to 'sit in on his stream and ban cheaters all day'.
Trending Stories