Call of Duty Warzone: Head Coach Of Atlanta FaZe Shows Why He's One Of The Best
Published 05/15/2020, 6:07 PM EDT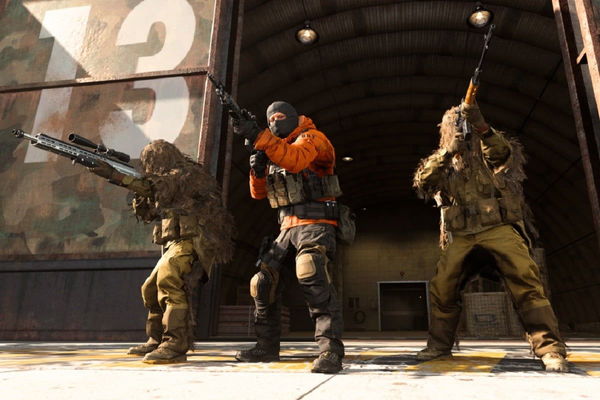 ---
---
Call of Duty: Warzone is one of the most popular battle royale games out there. The game provides all the classic Call of Duty elements to players in an action-packed environment. About 150 players launch into Verdansk, where adrenaline always soars, as combat is intense and extremely fast-paced. To come out on top, one must be thoroughly aggressive and fittingly adept with strategies.
ADVERTISEMENT
Article continues below this ad
James "Crowder" Crowder is one such player. Currently a head coach for Atlanta FaZe, he has also played professional CoD at the highest level. He is the 2015 Call of Duty World Champion with Denial eSports. Lately, Atlanta FaZe secured their Call of Duty League 2020 home series win in March under his guidance.
Recently, Crowder has taken up daily streaming.He has done it for 50 days in a row at the time of writing. In one such stream, he showcased his ultimate CoD skillset by dropping a 41 bomb while playing Warzone.
ADVERTISEMENT
Article continues below this ad
Words can't describe tonight's stream..

I love you all so much for the support I've been shown in my stream. I can't even believe what's happening.

Thank you, thank you, thank you. I will be live in the AM for another one.

50 days in a row tomorrow ❤️

— Crowder (@JamesCrowder) May 15, 2020
Crowder overshadows squadmates in Call of Duty Warzone
The head coach for Atlanta FaZe teamed up with Nick "NICKMERCS" Kolcheff and Tyler "Trainwrecks" Niknam for some Call of Duty Warzone trios action on May 14. Rocking his go-to loadout of the Grau 5.56 AR and the MP5 Flood SMG for the majority of the game, he started by meleeing opponents with the Flaming Throwing Knife, Heat Treat, like it's no big deal.
Soon enough, he gathered up 20 kills, much to the delight of his teammates. Though he kept sending opponents back to the lobby, not everything was smooth sailing. He got dispatched to Gulag after the 20-kill mark but earned his redeployment soon in a fascinating manner. Using a stun grenade, he knocked out his adversary. Then he struck down on the unaware opponent from behind like a real pro.
After that, there was no holding him. He unleashed terror on whoever locked onto his sights and kept mowing down enemies left, right, and center. Even after his squad mates died, Crowder ended up having his best game of Warzone till now, dropping an insane 41 kills like a madman and secured the victory. NICKMERCS and Trainwrecks were left astonished. He almost doubled up the kills of his teammates alone.
Crowder's friends from the professional CoD scene took to Twitter to appreciate him. Dillon "Attach" Price, Tommy "ZooMaa" Paparatto and many others joined in to embrace the legend.
YOU'RE THE BEST IN THE GAME

— Tommy Paparatto (@ZooMaa) May 15, 2020
Call of Duty Esports caster, Clint "Maven" Evans had a similar reaction like most others.
ADVERTISEMENT
Article continues below this ad
However, such a result is nothing new for James Crowder. He has already surpassed the 30-kill mark multiple times since he started streaming recently. But the head coach outdid himself by quite a margin this time and proved why he's one of the best in the CoD business.
ADVERTISEMENT
Article continues below this ad
Here's the highlight video of the flawless 41-bomb that he uploaded on his YouTube channel. Enjoy the gameplay!
Trending Stories