This Grandma is Better Than You at Call of Duty Warzone
Published 12/29/2020, 11:59 AM EST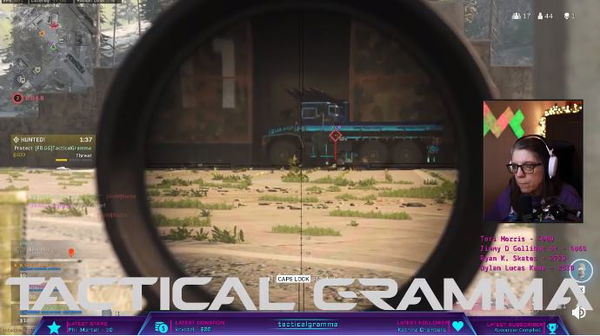 Those who follow Call of Duty Warzone streams regularly must have heard of the internet's favorite grandma. Michelle Statham, the Twitch streamer who goes by the name 'Tactical Gramma', has been making our days better with her streams since the beginning of this god awful year. Recently, she won her fans' hearts again with an insane long-shot in Warzone.
ADVERTISEMENT
Article continues below this ad
Further reading: Call of Duty Warzone and Black Ops Cold War Remove Weapon After Adding it Accidentally
One of her fans posted this one-minute-long compilation of clips of her in the subreddit dedicated to Warzone that shows this cool grandma proving to be absolutely lethal with an SPR 208 marksman rifle. The shots were quite difficult too, thereby showing her skills.
ADVERTISEMENT
Article continues below this ad
Tactical Gramma received a lot of love and appreciation in the comments of this post. A member of the subreddit commented, "Her streams seem like they're fun to watch! Also… this grandma is way better at WZ than I'll ever be". Another comment read, "hey at least the grandkids can say u can say ' MY GRANDMA SNIPES BETTER THAN YOU" and honestly, we could not agree more.
Statham boasts of a 1.2 K/D in Warzone, which is no mean feat. Moreover, the precision and speed with which she takes the shots makes us marvel at her prowess in the game, especially for someone her age.
ADVERTISEMENT
Article continues below this ad
Further reading: Corpse Husband to Collaborate with Machine Gun Kelly Following the Success of 'E-girls Are Ruining my Life'
Who is this 'Tactical Gramma' who has been owning Call of Duty Warzone?
Michelle Statham lives in her kid's basement and streams Call of Duty games, which ironically, is something that people associate with younger gamers. However, apart from absolutely owning Verdansk, this grandma even heals people through her streams.
ADVERTISEMENT
Article continues below this ad
Her viewers come from all walks of life. She listens to all their issues and comforts them, just like a loving grandma would. In a recent interview with the Good News Network, her husband Shawn said, "She has been helping so many people, from young single moms to college students to inner-city youth… She listens and cares for each of these people—all while playing video games."
Tactical Gramma has hands-down been one of the most wholesome streamers this year. She will help you and heal you if you are a viewer or her teammate. However, if you are an opponent, you're about to get owned.