Calvin Kattar Exposes Zabit Magomedsharipov at UFC Moscow, Magomedsharipov Barely Survives
Published 11/09/2019, 6:26 PM EST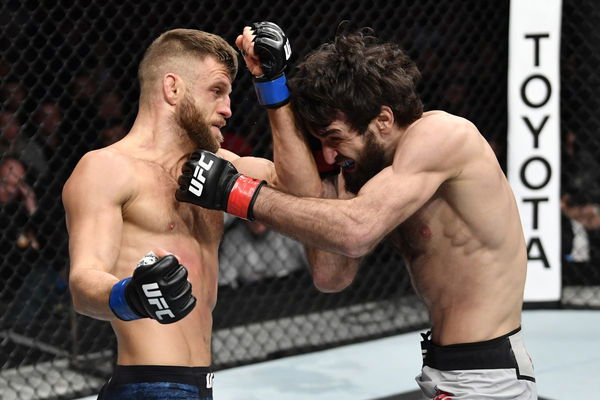 ---
---
Zabit Magomedsharipov secures his 6th consecutive win in UFC at UFC Moscow. Magomedsharipov won the fight via unanimous decision against ranked 11 featherweights, Calvin Kattar. Even with a win, Zabit Magomedsharipov looked terrible in this fight and it is safe to say that he is nowhere near to take on the likes of Max Holloway, Alexander Volkanovski, and Brian Ortega.
ADVERTISEMENT
Article continues below this ad
Zabit Magomedsharipov displayed some excellent striking in the first two rounds against Calvin Kattar. Surprisingly he was willing to trade strikes with Kattar in the boxing range and he succeeded in doing so for sure. Magomedsharipov clearly won the first two rounds. However, what fortune turned in thrid round when Kattar put pressure on Magomedsharipov. The Russian was exhausted as he has been in his past few fights. Magomedsharipov gets exhausted after the second round. It happened against Jeremy Stephens, Kyle Bochniak and it happened again tonight.
ADVERTISEMENT
Article continues below this ad
ADVERTISEMENT
Article continues below this ad
Watch This Story
Calvin Kattar was landing punches at will on a diminished Zabit Magomedsharipov for a meaningful period in the third round. It's safe to assume that the outcome of the fight would have been different had it been a 5 round fight as main-events are supposed to be. The fact that Magomedsharipov asked for a 3 round main event sounds an alarm regarding whether he can go 5 hard rounds against someone like Calvin Kattar who surely can keep up a fast pace for 5 rounds.
ADVERTISEMENT
Article continues below this ad
That apart Zabit Magomedsharipov was not able to assert the same level of dominance on the ground against Calvin Kattar at UFC Moscow. Although Kattar is not a phenomenal wrestler, he scrambled his way back to his feet after Magomedsharipov tripped him and took him down. Agreed, we did not see Magomedsharipov constantly trying to take Kattar down, but Kattar did defend a few takedowns with ease in the fight.
After the fight, Magomedsharipov said that he suffered staph infection before the fight, which can be a reason to why he seemed exhausted in the later rounds, however, this is not the first time we have seen Magomedsharipov getting outclassed in the third round. Overall it was a great main event. however, a 5 round fight between these two featherweights would have been much more competitive, to say the least.