Campbell's attitude proves Arsenal right to keep him – Wenger
Published 01/13/2016, 8:45 AM EST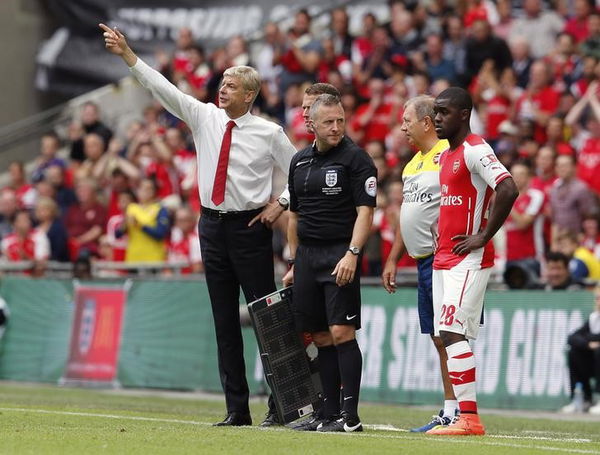 ---
---
REUTERS – Arsene Wenger has praised winger Joel Campbell's attitude after his goal in Saturday's 3-1 FA Cup win over Sunderland offered further proof that Arsenal made the right decision to keep the Costa Rica international at the club.
ADVERTISEMENT
Article continues below this ad
Campbell wanted to leave at the end of last season after making just four Premier League appearances off the bench before he was shipped out on loan to Spanish side Villarreal.
"I flat-refused to let him go because I saw something in him that gives you belief, because of his attitude," Wenger told the club's website.
ADVERTISEMENT
Article continues below this ad
"You want to be surprised by the quality of your players and where he surprises you is in the intensity of his teamwork."
The 23-year-old, who had three spells out on loan before he made his Arsenal debut, has already made six league starts this season, scoring twice.
Wenger said he was convinced Campbell deserved more playing time after his impressive performance in the 3-0 Champions League win over Olympiakos Piraeus in Greece last month.
"After Olympiakos, in a game where we were like that, knife on the throat, he turned up with something special… Then I thought 'he can play under pressure as well, what is important for us'," the Frenchman said.
ADVERTISEMENT
Article continues below this ad
Arsenal had to beat Olympiakos by two clear goals to reach the knockout stages for the 16th time in a row.
The emergence of Campbell on the wing might see Alex Oxlade-Chamberlain being pushed into a central role and Wenger was confident the England international has all the attributes to succeed in the middle of the pitch.
"He has the attributes to play in central midfield, he has that important quality — little surge to get out of pressure," Wenger said.
ADVERTISEMENT
Article continues below this ad
"One of the things to get out of pressure is to have a little dribble to get away from the guy who closes you down and nobody has that more than Oxlade-Chamberlain."
(Reporting by Shravanth Vijayakumar in Bengaluru; editing by Justin Palmer)