Can Gambhir make a comeback?
Published 09/13/2016, 1:19 PM EDT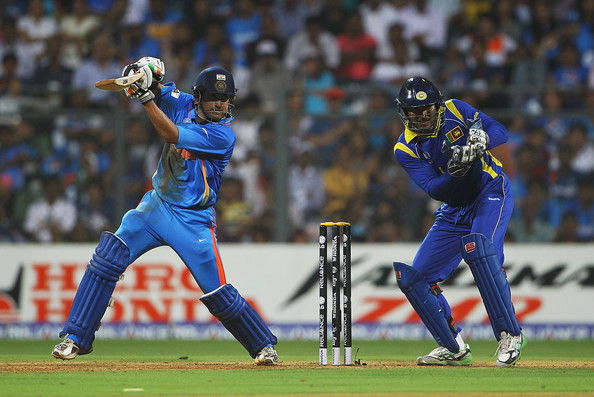 ---
---
Gautam Gambhir had a rough start to his career, opening alongside Virender Sehwag against Bangladesh. His score of just 11 runs from 22 balls and a total of 113 runs in five games saw critics question his abilities. Little did they know that he would be the key in the 2007 T20 World Cup and 2011 ICC World Cup wins. Lately, however, Gambhir has been unable to find any room in the squad.
ADVERTISEMENT
Article continues below this ad
Gautam Gambhir is not exactly a likeable guy. He is fiery, aggressive and vocal. Always been considered as a 'hothead' on the field, he has a knack of picking up arguments. The infamous ones being against Shahid Afridi, Shane Watson, and Virat Kohli.
Nonetheless, Gambhir is a class player. He is one of those who could attack and defend with same ease. And despite staying under the shadows of Sehwag and Sachin Tendulkar, he succeeded in making a name for himself as an opener.
ADVERTISEMENT
Article continues below this ad
2007 was the year India once again became a dominant force in world cricket. And it was during this year that Gambhir became a key part of the team's success. The T20 World Cup win was largely credited to skipper MS Dhoni. But, it was Gambhir who played a critical role, which went unnoticed.
Gautam became the leading run-scorer in ODI for India in 2008. He was also the ICC Test player of the year in 2009 for scoring an aggregate of 100 runs in every Test he played that year. He twice scored his career best 150 and led India to a 5-0 rout over New Zealand at home, during which he scored back to back unbeaten centuries. India won the World Cup in 2011. Tendulkar's dream was fulfilled and Dhoni was again praised for his leadership. But just like in 2007, Gambhir's 393 runs in the tournament and a match-winning 97 in the final was overshadowed.
Gambhir had a sub-standard 2012 with the national side losing a Test series at home for the first time in 10 years. The loss to England was preceded by some forgettable tours in the form of Asia Cup in Bangladesh and the World T20 in Sri Lanka . Add to that the two back-to-back overseas whitewashes in away tours to England and Australia.
ADVERTISEMENT
Article continues below this ad
Since 2011 final, he has only represented India 33 times in ODI's, scoring 1,165 runs at an average of 35.30. This record is quite decent but still, he has been kept out of the ODI squad since early 2013. In IPL 2016, he was in terrific form, which was seen as his best bet to return to the national side. While the Indian selection committee claims that age is just a number to be a part of the team, it is surprising that Gautam Gambhir's name still does not feature in the discussion. He was excluded from the squad for tours to Zimbabwe and West Indies. And it looks unlikely that the selectors might give Gambhir a chance soon.
Indian cricketers on the wrong side of the 30s do not usually get a call unless there is a big event coming up. Talking about the last decade, except Sourav Ganguly and Yuvraj Singh, we have not exactly seen a front-line batsman making a comeback to the national team. But, there are exceptions like Harbhajan Singh, who was called up to the Indian Test squad after a gap of two years for the tour of Bangladesh at the age of 35. Ashish Nehra, 37, made his comeback to the Indian team after a gap of over five years when India toured Australia in January. There is Amit Mishra as well.
Shikhar Dhawan has been giving a string of shoddy performances and Gambhir's recent Duleep trophy performances can help him press for the selection. But players such as KL Rahul, Manish Pandey, Karun Nair and Unmukt Chand  have shown glimpses of talent and with age on their side, they might prove to be a hurdle to Gambhir's comeback. Also with a test season of 13 matches coming up, it will be hard for Gauti to get into the side as Murali Vijay is doing well at the top. Pujara, Kohli, Rahane are the next three, which no selector in his right mind would want to touch. Then is Rohit Sharma, whose career has seen way too many ups and downs. Nevertheless, no selector would have Gambhir at No 6 or lower.
ADVERTISEMENT
Article continues below this ad
There seems an anti-Gambhir group working within the BCCI. His spat with Manoj Tiwary was blown out of proportion and even rumoured that he physically assaulted a match official. Remember how he was falsely accused by the media of not shaking hands with Dhoni after the match? This will further prove a detriment to any chances he has. The bottom line it seems is, Gambhir will end up with stats of 5,238 runs at an average 39.68 from 147 ODIs and 932 runs in at 27.41 in 37 T20Is
Given the fact that lots of Test matches are in the offing, a consistent and steady opener is required. With Dhawan being unpredictable and patchy, Gambhir should be brought back. He is in good form and can build and hold innings.