Can Misbah-ul-Haq in the Dual Role of Coach & Selector be Good for Pakistan Cricket?
Published 09/04/2019, 9:45 AM EDT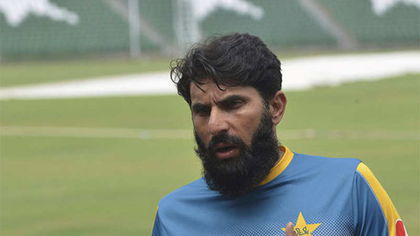 ---
---
A person who was made the scapegoat, when he deserved lauds and pats, a person who was portrayed as the antagonist, when he was the protagonist, Misbhah-ul Haq and cricket got along excellently, but not Misbah-ul-Haq and Pakistan. At least so it seemed when he was a player.
ADVERTISEMENT
Article continues below this ad
Misbah-ul-Haq scored over 5000 runs in both Tests and ODIs at an average well above 40. These stats seem more incredible when you consider that a majority of his playing career came after he crossed 30 years in age, and very few times in his career did he play in the top 4 or 5 in the batting order. He played his final test match at the age of 42. Yet for many in Pakistan, he seemed to be the man who lost them a T20 World Cup finals and a World Cup semi-finals, rather than the man who remained the lone fighter to bring it to such close margins.
"Here is a rational man in an irrational place. A man unlike most of his countrymen," the cover story, titled "The Logician", of the Cricket Monthly read about Misbah a few years back.
ADVERTISEMENT
Article continues below this ad
The logician, on Wednesday, was appointed as the head coach of the Pakistan cricket team. But uniquely, he was also named as the chief selector of the very team he would coach.
"For him, every ball was something he needed to see," a Ten Sports anchor said of him when he was an analyst for them. "The only time he stopped watching was when he had to pray, but even then after he was finished praying he would ask me or someone about every ball."
Appointing such a keenly observant man as a coach seems completely rational. But how much of the rationalism is retained after asking the man to simultaneously be the chief selector? At first thought, it seems like handing complete authority of Pakistan cricket to Misbah. Upto an extent, it holds true. But again, how much will it benefit them, if at all it will?
A coach and selector working with good co-ordination should lead to a good team. In fact, a huge system needs to work as a whole to reap the desired results. But will centralizing the power make it easier? A huge subject for debate. For now, let us just stick to the dual role of Misbah, instead of whole system.
Misbah-ul-Haq the coach vs Misbah-ul-Haq the selector:
Misbah can closely keep an eye on each and every player as the coach of the team. This, in turn, is sure to have its effect on Misbah the selector.
so will the pakistan chief selector drop the pakistan captain if he disagrees with the pakistan head coach?

— Gaurav Kalra (@gauravkalra75) September 4, 2019
The reaction to a player's susceptibility varies hugely from a coach to a selector. A coach must try to improve the player, while a selector must look for replacements. That is what at least their job descriptions say.
ADVERTISEMENT
Article continues below this ad
When a player sees an area of his game that he need to improve, he goes to the coach to work out the problem. In this scenario, whenever a Pakistani player will be going to the coach, he will invariably be speaking to the selector as much as he will be speaking to the coach.
For all the calmness of the former Pakistani captain, Misbah-ul-Haq the selector will at some stage intervene the thoughts of Misbah-ul-Haq the coach.
While in a few circumstances, the dual role might be beneficial, a few cases might prove to be utterly disadvantageous.
ADVERTISEMENT
Article continues below this ad
Whatever the outcome might be, only time can tell. But Misbah-ul-Haq now, is certainly one of the most powerful people in Pakistan Cricket.