Can Real Madrid achieve the impossible?
Published 04/11/2016, 5:34 PM EDT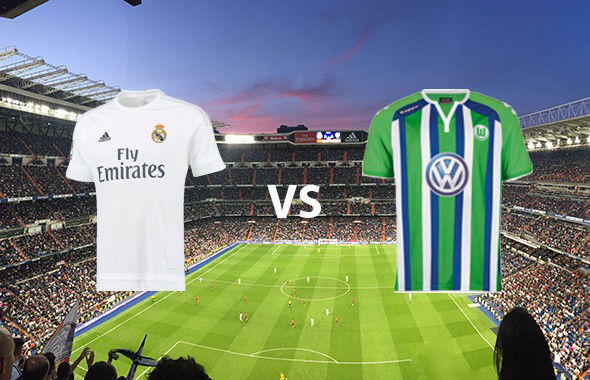 ---
---
Football's biggest competition is about to reach its final destination, as eight teams battle tomorrow and the day after for a place in the semi-finals of the UEFA Champions League. While three of the four ties have lived up to the expectations, it was a relatively easy looking match which provided the most shocking result in the first leg so far. The Real Madrid fans were relieved when they saw Wolfsburg's name written against them in the quarter finals of Europe's elite club competition. But what happened in Germany was, and will remain as one of the shocks of the season.
ADVERTISEMENT
Article continues below this ad
Madrid's misery against German opponents away from home continued against an inspired Wolfsburg side. They were on cloud nine after their victory over arch rivals Barcelona, that too on the Catalan club's home soil. But that did nothing in terms of the team's performance against Wolfsburg. Ronaldo and Benzema missed a couple of good chances to bring Madrid back into the game, as the all-whites searched for an all important away goal. But that goal eluded the Spanish giants as the match ended up in a 2-0 defeat for them.
Many pundits have declared that the tie looks settled, but there is something in the air which refuses to say so. As the big night approaches, the biggest question is can Real Madrid overturn this deficit and achieve the impossible? Here are five points which support Real Madrid's quest of making it into their sixth Champions League semi-finals in a row.
ADVERTISEMENT
Article continues below this ad
1) Home form of Madrid this season
Even though Madrid haven't been consistent as a defensive unit in La Liga this season, their record at the Bernabeu in the Champions League is phenomenal. They haven't conceded a single goal at the Santiago Bernabeu this season in the competition, and have scored a scintillating 15 goals. Even a team of Paris Saint Germain's quality was unable to breach Madrid's defence. If Real Madrid continue this kind of form at home, it is almost certain that they will achieve one of the most memorable comebacks this season.

2) The CR7 factor
Everyone knows that if Real Madrid are to win this tie, Cristiano Ronaldo will have to be at his very best for the 90 minutes. And the fact that he is in terrific form is a good sign for the Madrid faithful. Ronaldo reached another milestone this weekend in La Liga. The Portuguese superstar became the first player ever to score 30+ goals in the league in six consecutive seasons, as he scored in the 4-0 demolition of Eibar at the Bernabeu. He is enjoying his best ever campaign in the Champions League this season, having scored 13 goals already in the competition. And yet again, Ronaldo will hold the key to Madrid's fight back in this tie.
3) Pre-match preparation
With a game of this magnitude on the line, it is very important to take good spirit from the previous outing. While Real Madrid warmed up with a 4-0 thumping of lowly Eibar, Wolfsburg stumbled to a 1-1 draw at home to Mainz, a team against which they were expected to dominate. Moreover, Madrid rested some of their important players including the likes of Navas, Ramos, Marcelo, Kroos, Modric, Bale and Benzema. On the other hand, Wolfsburg played a majority of their first team players, with Draxler the only player not to take to the pitch from the Champions League game. This might have an adverse effect on the match day as Madrid players have more rest and spirit going into the game.
ADVERTISEMENT
Article continues below this ad
4) Effective team selection
While the team picked by the newly appointed Zinedine Zidane was majorly the first choice for any game, the one change that he made from the clasico victory was a total disaster. The main culprit for Madrid was the Brazilian full-back Danilo, who is playing his first season for the club. Constantly out of position, Danilo left acres of spaces behind him, which was very well utilized by Wolfsburg's talismanic midfielder Julian Draxler. The fact that Dani Carvajal wasn't match fit left the French legend with no choice but to field the young Brazilian. But his errors cost his team dearly as they now face a mounting task of overturning a 2-0 deficit. Carvajal is quicker than Danilo and is better than the former Porto man both offensively and defensively. With Carvajal fit, it won't be a surprise to see the Spanish right back in the starting line up ahead of Danilo.
ADVERTISEMENT
Article continues below this ad
5) Brilliant Keylor Navas
The defence of Real Madrid has always been fragile on certain occasions. But there have been times this season when the Merengues have seen their midfield and their attack switch off against big opposition. They collectively failed against Barcelona at home in a 4-0 loss late in November last year. But there is one man who has been a star turn in this team, their goalkeeper Keylor Navas. The Costa Rica captain was once a liability for Madrid when they were trying to bring in David de Gea at the start of the season. But as that deal didn't work in favour of Madrid, Navas was given the number of an outgoing legend, Iker Casillas. Navas hasn't disappointed in the number 1 role and he has been a true saviour for Madrid on many occasions, from pulling off magnificent quick-reaction saves to some excellent penalty saves. He will once again play a major role in Madrid's match against Wolfsburg, which will also be a huge test of the team's and Zizou's character as a manager.