Can Romero ever emulate De Gea's success at Manchester United?
Published 08/16/2015, 1:41 PM EDT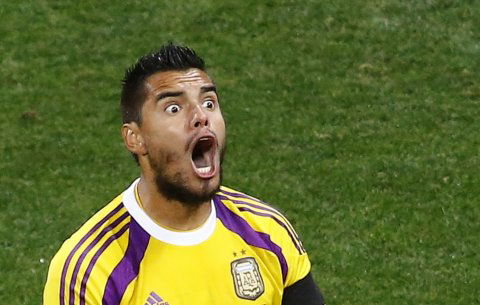 ---
---
Every football fan who keeps a track of the news would know all about the David de Gea saga. With him being almost certain to continue his future with Real Madrid back then, Manchester United decided to invest in a solid plan-B. In this case, they found their secondary in Sergio Romero.
ADVERTISEMENT
Article continues below this ad
The rumours flying around ever since the previous season ended, hasn't materialised yet. This leaves the manager Louis van Gaal in a dilemma. With 6 goalkeepers in his disposal, he has to take the decision to field one amongst them each game. And the tougher choice would be between David and Sergio.
Even though David de Gea has been playing in the Premier League since 2011 for Manchester United, he was not the very best in his first season. After just arriving from Atletico Madrid, he struggled to fight against the sturdy and fit English strikers. But over the course of 4 seasons, he has evolved from a plain shot-stopper to an all round goalkeeper.
ADVERTISEMENT
Article continues below this ad
But Sergio Romero, who arrived on a free transfer is already a built goalkeeper. Playing for the Argentine National team in the Copa showed his capabilities as a strong dependable wall at the back. When he was playing for Sampdoria in the Series A, playing for a smaller club amongst giants like the Milan duo, Roma, Lazio and Juventus amongst others, he managed to keep his team at a safe position in the table.
When the players are compared stat-wise, they compared equally to saves per goal. Also, Sergio has better crosses claimed per game, which had been continual issue for the Spaniard. But the Spaniard rampaged over on the number of clean sheets, which is an indication of the team as a whole.
Even though Sergio would not have been the ideal choice for replacing David, he's proving himself capable with every game he is playing. Louis van Gall has got it right, sending a message that the club can't tolerate players who take the club on a merry-go-round and toy with them. It would never be the same, but they have made sure they won't be hit by a bulldozer either.