Captain Kohli?
Published 06/01/2016, 10:10 AM EDT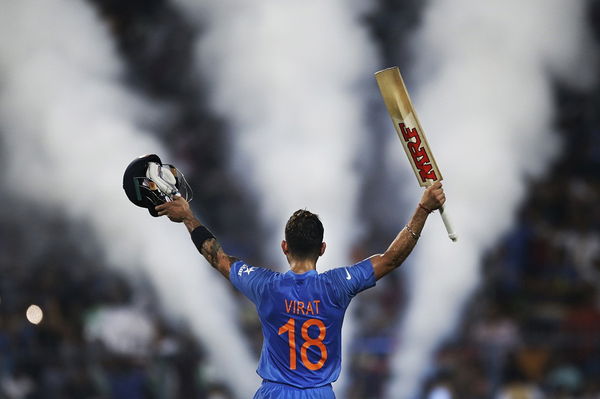 Former Team Director of the national cricket team, Ravi Shastri, said that Virat Kohli, the T20 player of the year, should be given the responsibility to lead the team in all three formats of the game and  let Mahendra Singh Dhoni  "enjoy his game. Shastri told India Today channel: "If I am the chairman of selectors, I would be thinking in that fashion, absolutely. It is time to start thinking. You have to see India has no major event in three years till 2019 World Cup. This is your best chance to think and build."
ADVERTISEMENT
Article continues below this ad
Shastri also said that Dhoni can still contribute as a player as he is an integral part of the team.
"By no stretch of imagination, you are taking anything away from MS. He can still contribute massively as a player. Time has come to allow him to enjoy himself, enjoy the game. It also depends on how hungry MS is, how passionate he is, whether the juices are still flowing. It's a Catch-22 situation but you have to take hard decisions."
ADVERTISEMENT
Article continues below this ad
Shastri reminded that the team management has groomed Kohli as a leader over a period of time.
"A time has come where you have a guy you have groomed over a period of time, who is ready. In the next 18 months, India hardly plays any ODIs, the gaps between Tests and ODIs are massive. So it's time to look ahead."
ADVERTISEMENT
Article continues below this ad
Shastri said that one can also learn from the Australians.
"Mark Taylor was a great captain but they started to groom Steve Waugh. Just when you thought that Waugh was firmly there, in came Ricky Ponting and then Michael Clarke, the best captain after Mark Taylor. And now you have Steve Smith."
But some might think otherwise. Though Virat Kohli is a special blend of consistency, power and presence of mind but if he is selected as captain prematurely, we might face a situation as faced when Sachin was appointed as Captain of the team when he was in full form. He slumped both as a player and a captain and himself asked to be relieved of captain's appointment to continue to contribute as a player.
ADVERTISEMENT
Article continues below this ad
Kohli's captaincy is good only when the going is good. He is all at sea when things don't go in his favour. He is a highly temperamental person and loses his cool easily. No doubt Virat Kohli is a young and very aggressive batsman. He has exceptional talent in batting and fielding. But he is unable to keep his cool on the field either with players or with umpires , which add to his minus points. His on field facial expressions of anger or over enthusiasm do not augur well for captaincy. So it is time to think from the head and not heart. A more reasoned thought process would be to evaluate and compare the likes of Rohit Sharma, Virat Kohli, Suresh Raina among others in a clinical manner for the post of captain.