Vettel is Confident of Better Luck after Summer Break
Published 07/30/2018, 8:55 AM EDT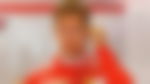 ---
---
Ferrari driver Sebastian Vettel has said that the team have plenty left in the bag. His comments come as the Italian marquee bids to take back the championship advantage from Mercedes.
ADVERTISEMENT
Article continues below this ad
As the Hungarian GP wraps up, F1 prepares to wind down for four weeks. Vettel currently trails Lewis Hamilton by 24 points. The momentum is now on Mercedes' side after back-to-back wins in Germany and Hungary.
Although Ferrari have said that they were faster for both events, silly errors in Germany cost them dearly. Then, a thunderstorm at Budapest wiped out Ferrari's speed advantage in qualifying.
ADVERTISEMENT
Article continues below this ad
However, inspite of the setbacks, Vettel is confident Ferrari can bounce back in Belgium at the end of August.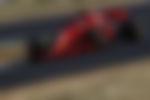 "This year has shown so far that our car is more efficient, our car is stronger and still has a lot of potential to unleash," said Vettel. "So I'm quite confident with what's sitting in the pipeline that we can improve."
ADVERTISEMENT
Article continues below this ad
After Hungary, Hamilton said that Mercedes were leading the title race because they operated more efficiently. So it didn't matter even if Ferrari had the quicker car.
Back in 2017, after the summer break the Merc was simply too quick and too reliable for the 2017 Ferrari. Fast-forward to 12 month later, Ferrari feel that they are in a better position. The German four-time World Champion is hoping to land his fifth title before Lewis Hamilton. Vettel truly believes that this year's Scuderia Ferrari is far superior in terms of speed.
ADVERTISEMENT
Article continues below this ad
The question is, can Ferrari pull up their socks and mount a more serious challenge? Can Mercedes carry the momentum into the second half of the season? What about Red Bull? Can they buck up and challenge the two at the front? Will Max Verstappen's patience run out? There are so many questions that need answering. Those answers will come when the season resumes in Belgium.