Carlos Sainz Gets his First Podium as Lewis Hamilton Gets a Penalty at the Brazilian Grand Prix
Published 11/17/2019, 2:54 PM EST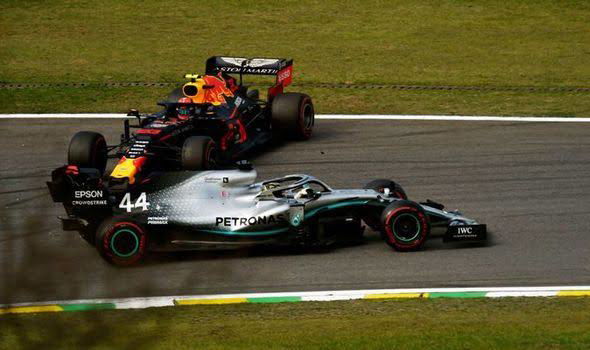 ---
---
The Brazilian Grand Prix 2019 was so crazy that it would have made the Lord of Chaos proud. First and foremost, Valtteri Bottas trundled to a halt with a smoky engine, but that was only the appetizer. The main course was the two Ferrari drivers, Sebastian Vettel and Charles Leclerc taking each other out. However there was still dessert, to be precise, a last ditch divebomb by Lewis Hamilton on Alexander Albon.
ADVERTISEMENT
Article continues below this ad
Albon, heartbreakingly lost his maiden podium chance, while Lewis Hamilton recovered to finish third. However, the newly crowned world champion is not out of the woods yet, he was summoned by the stewards for the clash with the Thai driver.
ADVERTISEMENT
Article continues below this ad
Now, it has transpired that the British driver copped a 5 second time penalty for the clash. What this now means is that Carlos Sainz Jr has officially handed McLaren their first podium since 2014. The bad news is, he too is under investigation for improper use of the DRS.
This is a perfect indication that McLaren are steadily improving and this podium will be a massive boost. It is a sign that the Woking outfit is back where it belongs and have banished all demons of the dreadful Honda days.
Meanwhile, on Sainz's supposed improper DRS use, there has been no official summon by the FIA yet. This is because the FIA are currently dealing with the kerfuffle, that is the Vettel and Leclerc incident, and both culprit have been summoned to appear "immediately".