Watch Magnus Carlsen defeat 3 players simultaneously – while blindfolded!
Published 06/02/2015, 11:05 AM EDT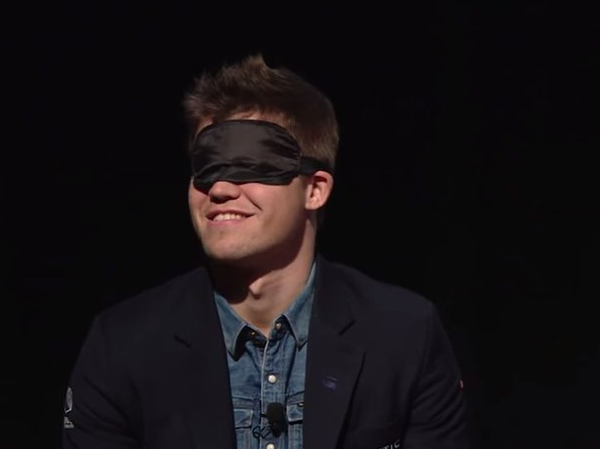 ---
---
The Sohn Conference, which had its 20th anniversary this year, is the world's largest investment conference and was recently held at the Avery Fisher Hall in Lincoln Center in New York. It was started with an aim to raise money for pediatric cancer research and is named after Ira Sohn, who died of the disease at age 29. The conference was started by Ira's brother, Evan, and by Doug Hirsch, who has become a huge fan of chess in recent years. So, he decided to invite reigning World Chess Champion Magnus Carlsen to the exhibition.
ADVERTISEMENT
Article continues below this ad
Some of the biggest names in the financial world are used to commanding center stage and give speeches at the event. But on this occasion, they stood transfixed just off the main stage watching something they had never seen before.
On stage, Magnus Carlsen was wearing a blindfold and playing a timed exhibition game against three people: J. Christopher Flowers, the chairman of J.C. Flowers & Company; Paul Hoffman, the chief executive of the Liberty Science Center; and Gbenga Akinnagbe, a star of the HBO series "The Wire." Two grandmasters, Pascal Charbonneau and Anatoly Bykhovsky, made Carlsen's moves as he called out to them, while Maurice Ashley, another grandmaster, provided commentary. Each player, including Carlsen, had nine minutes to complete the games, which averages to three minutes per game. Even though Mr. Hoffman and Mr. Flowers have competed in tournaments, Magnus had little trouble dispatching all three players.
ADVERTISEMENT
Article continues below this ad
Carlsen had to envision each of his opponent's boards in his head while he made his moves, and while his opponents could see their boards and take their time, they could not even come close to troubling the Norwegian. Carlsen, who is the highest rated player in chess history, showcased his unbelievable abilities as he destroyed all three of his opponents while sitting on a chair a few meters away wearing a blindfold. Can't believe it? Check out the video.
For the full video of three games, click here.