Carolina Marin beats Saina Nehwal to clinch World title
Published 08/16/2015, 5:16 AM EDT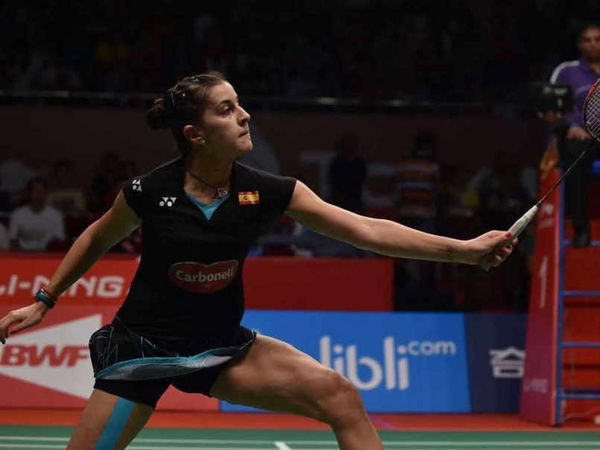 ---
---
World No. 1 Carolina Marin clinched her second World Championships title in a row after she convincingly beat World No. 2 Saina Nehwal in straight sets. The 22-year old Spaniard successfully defended her title after a hard-fought 21-16 21-19 win in the Women's Singles Final in Jakarta.
ADVERTISEMENT
Article continues below this ad
The disappointed runner-up Saina Nehwal, had already created history by becoming the first Indian ever (both sexes) to reach a World Championship Final. But she couldn't break past the dominant Carolina Marin's aggressive onslaught.
The defending champion Carolina Marin started the first game a little slowly, but got back to her best soon after and raced to a 20-13 meaning she had the luxury of 7 game points. Saina Nehwal managed to save 3 of them, but succumbed to the pressure later and lost the first game 21-16.
ADVERTISEMENT
Article continues below this ad
The 25-year-old Saina Nehwal started the second game on the stronger note and was much more aggressive in her approach from the first game. Nehwal found herself 6 points ahead at 12-6 when Carolina Marin showed everyone why she is the World Champion. She took 7 straight points to lead 13-12.
From then, the game went neck-on-neck until 18-18, when Marin came on top with 2 great points to get to 20-18 with 2 Championship points to her name. Once again, Nehwal was able to save one, but yet another unforced error meant that the young Spaniard was crowned World Champion for the second consecutive year.
Although defeated, this tournament has been a huge morale booster for Saina Nehwal as she had never gone past the Quarter-Finals in the previous years. At just 25, she has a few more glory days ahead and she might very well be holding up the trophy in the near future.
Some say that this Marin-Nehwal rivalry has all the potential to become one of the most famous in Women's Badminton history. But Nehwal will have to work on a way to beat the ruthless Spaniard if she wants to come out on top in this rivalry.
Trending Stories