Carolina Marin – Story of Flamenco dancer to World no-1 in Badminton
Published 06/22/2015, 12:15 PM EDT
By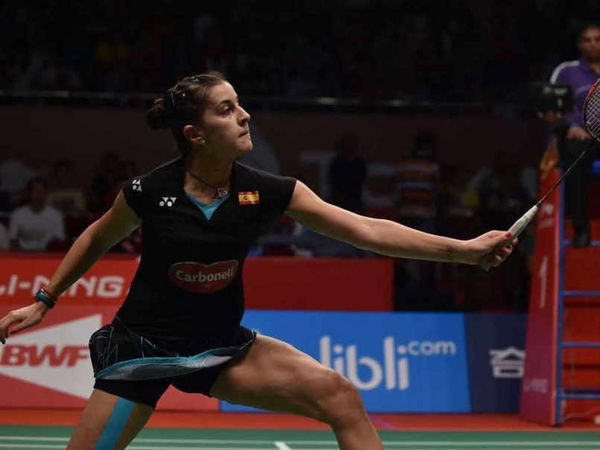 Carolina Marin is a player that most people didn't know much about a year ago. For those who know her, she was just a young Badminton player trying to make a mark for herself in International Badminton. Ranked 15 in the world, she was about to take world badminton by storm. Nobody could have predicted that a year down the line, this 22 years old young girl from Spain will be on the summit of World rankings and a multiple title winner.  At the age of 22, she has single-handedly put Spain on the world map of Badminton. She has many titles to her name, she is the current World no-1, reigning World champion, present All-England Champion & Australian & Malaysian superseries winner. All of the above achievements came in the last one year.
ADVERTISEMENT
Article continues below this ad
Born in Huelva in Spain, she was a Flamenco dancer, a famous dance form in her town. She wanted to be a Flamenco dancer but her destiny had other big plans for her. One day her best friend from school asked her to try a new sport so she went with her & practiced this new sport. It was the first encounter of 8-year-old Marin with this great sport of Badminton &  the rest, as they say, is history.
ADVERTISEMENT
Article continues below this ad
The route to success was not easy for her, born in a country where sports  meant only Football & Tennis. Spain has no fan base for badminton, with only 7000 players playing badminton at all levels in Spain. Spain does not have players a top level of Badminton player except Marin & Beatrix Corrales. Due to lack of good Women players in Badminton, she usually trained with male players or junior players. On dearth of training partners in Spain, she says-"It's difficult because I don't have practice partners, it is not India, China or Indonesia. When I practice it is usually with junior players". Owing to a shortage of  facilities and good players in Spain she has had short training stints in Thailand, Indonesia & Malaysia.
ADVERTISEMENT
Article continues below this ad
Carolina Marin first came into the limelight when she became the 1 Spaniard to win the European Championship, but she made headlines when she defeated the then World no-1 & Olympic champion Li Xuerui of China to capture World Championship title. At the age of 21, she became the youngest European to win a world title. After winning the World championship she never looked back,  in 2015 she won her 1 Superseries title by defeating Saina Nehwal in the All-England championship. She did not stop there as she went on to win the Malaysian & Australian superseries titles as well. The biggest moment of her career came last week when she became World no-1 in Badminton. She is the face of badminton in Spain & with her winning so many titles, Badminton is gaining popularity in Spain and now more children are playing Badminton in Spain. With this, she not only became the world number 1, but also an inspiration for many who wants to make Badminton as their career.
ADVERTISEMENT
Article continues below this ad
The credit of Marin's success has to be given to her coach Fernando Rivas who identified the talent in Marin at the age of 13, nurtured her as a player & gave the badminton fraternity a new star. His efforts need to be  recognized as he has to overcome many problems to bring Marin to the top of the World Badminton.
One wonders having achieved so much in such a short span of time what's next for Marin. She says – "when I started playing badminton, one of my goals was to win  gold medals at World championship, Olympic medal & to be World no-1". Having achieved two of her goals she has her eyes set on her final against PV Sindhu in Rio.