Is there a case for more Awards?
Published 01/23/2015, 1:07 PM EST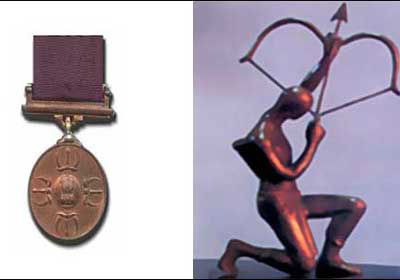 ---
---
The recent Saina Nehwal episode on Padma Bhushan award is not a new one – almost every year ever since the national awards for sports have been constituted we hear of some omission or partiality in the choices or recommendations made.
ADVERTISEMENT
Article continues below this ad
But who is at fault here? Is it the committee, the sportspersons or the sport federations? Probably all have to share the blame to some extent. Lobbying by the federations, self-advertisements by the athletes and bureaucratic apathy have made a mockery of the whole system of awards and de-valued the very recognition they seek. Unfortunately, in all this it is some deserving athlete who takes the hit.
Why so? Are sportspersons not given their due in our country?
ADVERTISEMENT
Article continues below this ad
There is a school of thought of the opinion that more representation of sportspersons in awards would help in creating the necessary encouragement and push for a sporting culture in the country. But there is also an opposing view which argues that increasing awards to sportsperson is not the way forward.
Presently India has national awards for sports under Arjuna Awards & Khel Ratna exclusively for sports arena. Additionally, sportspersons are also conferred the Padma Awards.
The people arguing for an increased representation for sportspersons in the awards demand that the best performers in the country at the moment ought to be recognized and honored. This in their view would be an encouragement to others. But would this really work out in the long run? Would it not dilute the very awards the athletes crave for? It is necessary that the highest sports awards, like in any field, should go only to the most distinguished. Does a medal at the Olympics or Asian Games automatically deserve a Padma Bhushan or Khel Ratna? No doubt it is a great achievement. Let us assume that 10-15 years down the line India can produce many winners – do they all deserve the highest awards? There ought to be something more than just a win. A Padma or Khel Ratna awardee must be selected based on his or her contribution and performance over a period of time – not on a one off performance. Hence it is the need of the hour is to lay down strict guidelines for selection, not to increase the awards.
This begs the question of how then to encourage youngsters to take up sports. One way forward is to increase the rewards for good performances. The government, especially local civic bodies, and the private sector have to come together to increase the sponsorships, training facilities, scholarships etc. which can act as a great catalyst for sports among the young.
There seems to be a case for more debate in this regard and the final verdict is still awaited.