The Cavaliers hold off the Warriors
Published 06/08/2015, 5:11 AM EDT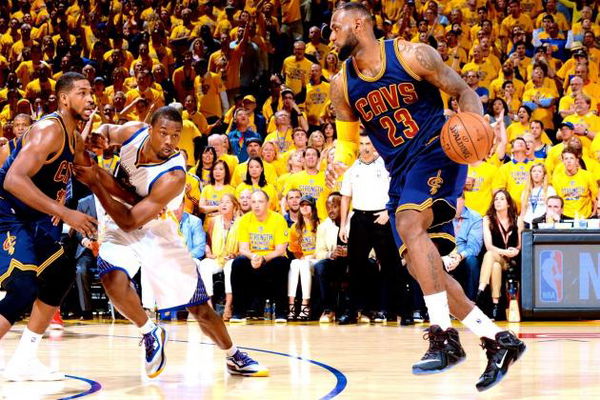 ---
---
The Cavaliers level the series at 1-1 as they now go back to Cleveland for the next 2 games.
ADVERTISEMENT
Article continues below this ad
They say a playoff series never truly begins until the lower seeded team gets an away win. That is what the Cavaliers did. Despite the setback of losing their star point guard Kyrie Irving, The Cavaliers stepped up to take the Warriors head on as they level the series 1-1. The Cavaliers have now won their first ever finals match in Franchise history.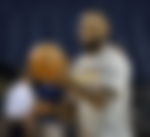 ADVERTISEMENT
Article continues below this ad
James in another commanding performance posted his 13 post-season triple double as he finished the game with 39 points, 16 rebounds and 11 assists in 50 minutes. The Warriors were led by Guard Klay Thomson with 34 points. Reigning MVP endured his worst shooting performance of the season. He shot only 5 of his 23 field goals, and only 2 of 15 from 3 points. He pulled his weight in the last 3 minutes, driving up a layup to tie the game 87 a piece at the end of regulation. The Warriors had to rally from a 13 point deficit with 3 minutes left in the 4 quarter.
Dellavedova, who started in place of the injured Irving played a wonderful defensive game as he frustrated the NBA's best shooter Curry all night. He also made the 2 decisive free throws with 10.1 seconds left in Overtime that put the Cavaliers in front. The warriors who used up all their timeouts tried to make a run for the Cleveland Basket but were unable to.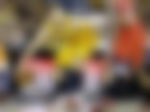 ADVERTISEMENT
Article continues below this ad
The Cavaliers who handed warriors their 4 Home loss all season now host Game 3 and 4 at Cleveland where they hope to use their home court advantage.
What do each team have to look forward to?
The Cleveland Cavaliers despite injuries to key personnel are stepping up to the task. Backed by their fans they will aim to make it 3-1 against the Warriors. They need to however improve their shooting accuracy.
ADVERTISEMENT
Article continues below this ad
The Warriors will need to find a way to break a strong Cleveland defense that has frustrated them for 2 games. They need to find a solution on guarding James even better as he is the focal point of the Cavaliers, shutting him out will be the biggest on-court blow they can deliver.