Cazorla Announces News on His Future
Published 05/22/2018, 11:41 AM EDT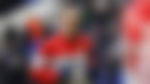 ---
---
Arsenal and Spain midfielder, Santi Cazorla arrived on English shores from Malaga in 2012 and has been a revelation for Arsenal, scoring 29 goals in 180 appearances. He is one of the most eye-pleasing footballers on the planet with his silky touches and audacious turns perfectly fitting in with Arsenal's elegant playing style.
ADVERTISEMENT
Article continues below this ad
But now Cazorla has announced that he has decided to part ways with Arsenal after his contract expired at the club. He has not yet revealed to which club he will move to but that news is expected in the next few months.
Cazorla became a very important part of Arsenal immediately after his arrival and was arguably their most important player until the arrival of Mesut Ozil. He will always be held in high regard by Arsenal fans despite not playing for the club since October 2016, after suffering an unfortunate Achilles tendon injury.
ADVERTISEMENT
Article continues below this ad
Cazorla has won two FA Cups during his six-year stay with the Gunners, with his free-kick sparking a comeback in the first of those wins in 2014 against Hull City. And he was visibly emotional as he announced his departure.
"I am very sad to be leaving after so many great times. I have loved my time with the club. I will always remember the special moments we had together. The FA Cup in 2014 is something we will never forget. I am very proud to be part of the club's history", said Cazorla.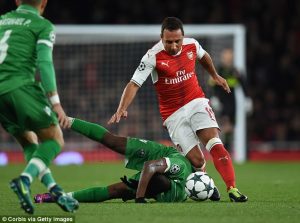 Though his injury looked straightforward at first, several complications forced Cazorla to have multiple surgeries. He was forced to have skin removed from his arm and grafted on his leg after an ill-timed infection.
ADVERTISEMENT
Article continues below this ad
He contracted gangrene in his right ankle and his playing career looked over doctors told him that if he will be lucky if he could ever walk again. But Cazorla never gave up and after a frustrating 1.5 year wait, he is seemingly all right and raring to go.
Arsenal chief executive, Ivan Gazidis also paid tribute to the departing Spaniard. He said, "Santi is always one of my favourite players to watch. His natural ability with both feet, his speed of thought and movement were central to our best performances in recent years."
"He plays with a joy and freedom which is very rare. We wish him well for the future and thank him for his important contribution to our club", added Gazidis.
ADVERTISEMENT
Article continues below this ad
Cazorla's departure will be a disappointment for fans of the Premier League but the news of his recovery is encouraging. Fans will surely miss his unique celebration of biting his wrist and his ambidextrous ability on the ball.