Cech to hold talks with Chelsea regarding his future
Published 06/09/2015, 10:33 AM EDT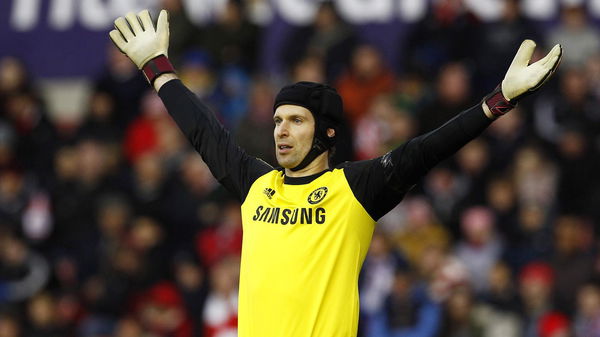 ---
---
Petr Čech is set to hold talks with Chelsea next week. He is eager to sort out where he will be playing next season. The 33-year old Czech shot stopper has only a year left in his contract. Čech has racked up 485 appearances in 11 trophy laden years. For the last decade, Čech was Chelsea's number 1 in between the sticks.
ADVERTISEMENT
Article continues below this ad
The arrival of young Thibaut Courtois has changed it. The former Genk K.R.C. Genk player spent 3 consecutive seasons on loan with Spanish side Atlético Madrid from 2011-12 to 2013-14 where he racked up 154 appearances. He enjoyed a fine spell there winning the La Liga, Copa Del Rey and the UEFA Europa League and reached the finals of the Champions League against all odds. His spell included fine displays in 3 encounters against Chelsea.
At the start of the 2014-15 Season, Chelsea confirmed he would be joining the Stamford Bridge outfit. Jose Mourinho confirmed he would be starting in the Premier League and Čech mostly played in the Capital One Cup and the few Premier League matches when Courtois was injured. Despite Mourhinho stressing on several occasions of his desire for Čech to remain at Stamford Bridge, Čech is not keen to play a backup role.
ADVERTISEMENT
Article continues below this ad
Čech has said:
ADVERTISEMENT
Article continues below this ad
"First I have to agree with the club what the conditions would be for leaving," he told reporters in his homeland ahead of the European Championship qualifier against Iceland on Friday. Next week we will have a meeting with Chelsea. At the moment it is with my agent. When it is clearer and all the cards are on the table, we will decide.
"I believe that for what I have done for the club and what the club has done for me, we can arrange it so we are all happy."
He added: "I keep all options open, regardless of the country. I will decide based on what is best for me and my family. It does not matter whether it is England, Germany, France or Spain. If I move, it brings difficulties. It must change everything, looking for housing, a school for children and so on. Therefore, the sooner I know what to do the better. I can plan everything and even rest before the new season."
ADVERTISEMENT
Article continues below this ad
Čech has been linked heavily with city rivals Arsenal and Turkish side Galatasaray. Many media sources say that Arsenal would be his preferred destination as he would not have to uproot his family.