Charles LeClerc Vows to 'Shut Up' after Singapore Grand Prix Controversy with Ferrari
Published 09/26/2019, 3:16 PM EDT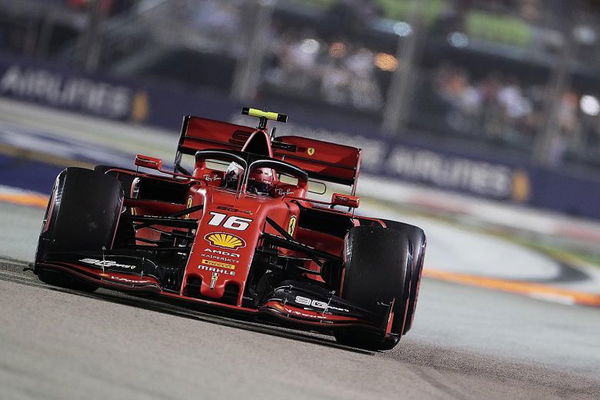 ---
---
Charles Leclerc was not a happy figure when victory slipped from his clutches and went to his teammate Sebastian Vettel. Naturally, in the heat of the moment, he let his feelings loose over the radio.
ADVERTISEMENT
Article continues below this ad
Now, having had some time to reflect over the past few days, Charles LeClerc realised he is making himself look bad. So, the Monegasque driver will be hoping avoid a repeat of his radio outbursts. He confessed that he may have grossly overreacted to being undercut by Vettel.
As the pole-sitter, Charles Leclerc was the early leader until Vettel leapfrogged him in the pits. Apparently, LeClerc's side of the Ferrari garage severely underestimated the power of the undercut.
ADVERTISEMENT
Article continues below this ad
While on his rant, he moaned that it was "not fair" and all the while, Ferrari had to pacify him. Afterwards, he sat down and discussed the incident with Ferrari team principal Mattia Binotto.
Charles Leclerc about the team radio in Singapore: "That's not gonna happen again. My reaction in the car was inappropriate, even though there is a lot of adrenaline involved. The team did everything right. With a different strategy we wouldn't have finished P1 and P2!"#AMuS

— tami. (@Vetteleclerc) September 26, 2019
Having had time to clear his hear, Charles Leclerc realised that he had been too vocal over team radio. He admitted that he appreciated why Ferrari took the call and ensured the team's  first one-two finish in over two years.
"I believe that my reaction was well over what it should be, and that shows that I've still got a lot to learn," a sheepish Leclerc said in the press conference.
ADVERTISEMENT
Article continues below this ad
"In this situation, there was absolutely no need to be like this. The team has done the right thing. We finished first and second. We wouldn't have finished first and second with another strategy, and that's what matters the most.
"On that, I've definitely got a lot to learn and a lot to improve so that won't happen again in the future."
He justified himself, by saying that in the car adrenaline is always running high which could cause him to say things he would later regret. Charles knew that he needs to be less impulsive in such situations, and "just shut up!"
ADVERTISEMENT
Article continues below this ad