Charles Leclerc Crashes Out of the Baku Qualifying Bringing Ferrari More Misery
Published 04/27/2019, 10:08 AM EDT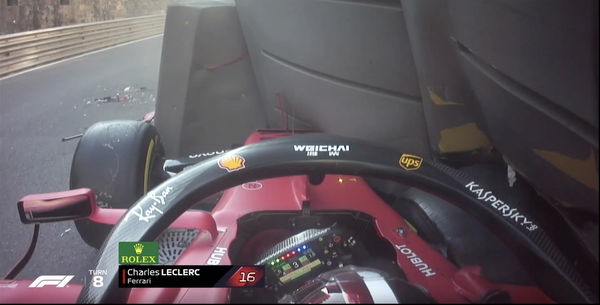 All hell has gone loose for Ferrari. Despite the claims of being the fastest car on the circuit, they have had the worst possible start with Mercedes claiming all three victories so far in the season. Sebastian Vettel looks terribly off compared to 2018 and Charles Leclerc is just not allowed to race.
ADVERTISEMENT
Article continues below this ad
Being the fastest car on the circuit on Saturday,Charles Leclerc was supposed to fight for pole position. But the bad fortunes continued. Ferrari decided to run him on mediums and he made a small mistake. The kind of circuit that Baku is, it does not allow room for any error. Right at the spot where Kubica crashed, Leclerc crashed his car ending his hope of taking the pole. The qualifying was red flagged immediately after the incident considering the tight nature of the circuit.
The temperatures are lower due to the red flag delay in Q1 and Ferrari using the medium tyres probably made things worse. Vettel almost hit the wall too. #AzerbaijanGP

— tami. (@Vetteleclerc) April 27, 2019
ADVERTISEMENT
Article continues below this ad
"I am stupid" – Leclerc kept on shouting on the radio, making it evident how frustrated he was with his error. What a mighty costly error for the team. Nonetheless, the nature of the circuit also doesn't make it easier for anyone and poor Charles Leclerc was just a victim of the circuit's curves.
Here, watch the video below of his accident. Just proves, Baku is not an easy circuit to race on.
ADVERTISEMENT
Article continues below this ad
https://streamable.com/2gqfd
Lets hope the team is able to fix his car without having to make Leclerc starting from the pit lane. Overtaking is possible in the circuit, but Ferrari need every bit of skill and luck to come back and save the drowning ship that is their 2019 Championship hopes.
With one Ferrari gone, the front row can go either way. Ferrari does look fast. But Mercedes and Red Bull are both in the mix. It's going to be a very exciting qualifying as long as someone else doesn't crash and bring the red flags (which could possibly mean the qualifying ending prematurely and happening tomorrow).
ADVERTISEMENT
Article continues below this ad