Charles Oliveira's Coach Dismisses Nate Diaz Fight as Diaz Isn't at Conor McGregor Level
Published 02/10/2021, 2:35 PM EST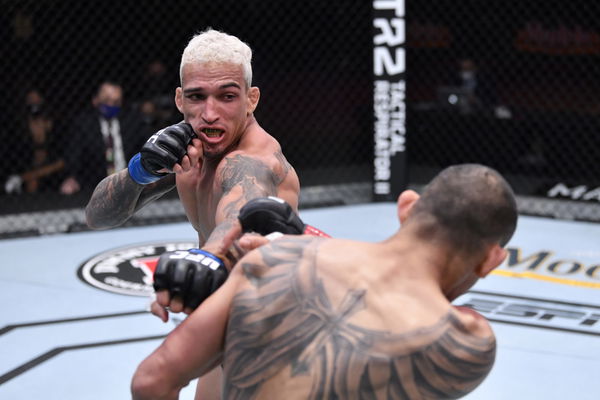 ---
---
Nate Diaz is planning a return to the Octagon in 2021. Diaz dropped two names that he would want to fight in his return – Dustin Poirier and Charles Oliveira. Both of them are among the frontrunner for a title shot in the lightweight division. Meanwhile, Diaz wants the fight at 165 or 170 pounds. Given Diaz's inactivity, Oliveira's coach argues that a fight with him makes no sense for the Brazilian.
ADVERTISEMENT
Article continues below this ad
While talking to AG Fight, Oliveira's coach, Diego Lima, said that their sole focus as of now is to fight for the title. Riding a seven-fight win streak, Oliveira made everyone notice him with his dominant outing against Tony Ferguson. In a perfect world, he should not be over one win away from the title shot. Therefore, this makes a potential fight with Diaz, at 170-pounds, nothing more than a cash grab.
ADVERTISEMENT
Article continues below this ad
"To be honest, it is a fight that theoretically makes no sense to us. Nate is not active, much less ranked. It is a fight that would only happen for financial reasons. But even so, I don't think it would be beneficial for us at this point. We know that McGregor sells a lot. Really, who he faces sells well. Nate is not at that level."
"Our goal is the belt. Even if it is very financially worthwhile, today I do not see this struggle adding to Charles' career. The goal is only one, the lightweight title," Oliveira's coach said (translation via BJPenn).
If not Nate Diaz, which opponent makes the most sense for Charles Oliveira
Despite not competing at lightweight since 2015, Nate Diaz continues to create a ton of buzz among the key players of the division. From Poirier to McGregor to Gaethje, Diaz finds his mention wherever there's talk about potential matchmaking for top contenders. However, his reluctance to compete at lightweight will shut a lot of doors on potential opponents.
With Khabib Nurmagomedov set to meet Dana White later this month, the title picture should get clear. Unless White pulls off something extraordinary, Nurmagomedov looks adamant about hanging his gloves. In that case, the UFC should start exploring the options for who the next title contenders would be.
ADVERTISEMENT
Article continues below this ad
Dustin Poirier, with his wins over Hooker and McGregor, looks like a lock for one of the two spots. Oliveira could be the other half of the same. However, there are other major names such as Michael Chandler or Justin Gaethje who would prefer otherwise.
Then there's Conor McGregor, who could sway the decision in his favor owing to his massive drawing abilities. Therefore, a fight with Chandler or Gaethje seems like the most likely option for Oliveira.
ADVERTISEMENT
Article continues below this ad