Charlie Austin – National Team Material?
Published 12/24/2014, 11:51 AM EST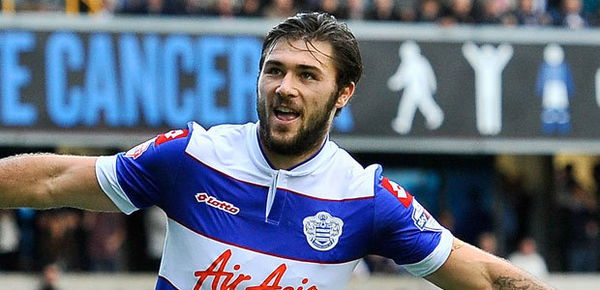 ---
---
All teams big or small need that one player, a player whom they can depend on when everything seems to go south. That player is the best player in that position at least for his team, if not the best in the league. Charlie Austin is proving to be one such player and QPR are lucky to have him in their ranks. He's got the physical presence, thanks to his 6 foot 2 inch frame and is a born goal-scorer.  So it doesn't come as a surprise that QPR are hoping to persuade him to sign a new contract.
ADVERTISEMENT
Article continues below this ad
Austin started his career training with the youth team of Reading, but was shortly released from the team for being "too small". He was subsequently signed by a local team called Kintbury Rangers and later joined his home-town team, Hungerford Town. It was only in 2010 that he started showing signs of what was to come later on when he signed for the then Championship side Burnley. He achieved a lot in two years with Burnley, equalling Ray Pointer's club record of scoring in eight consecutive appearances. On 1st August, 2013 Austin joined QPR on a three year deal, the transfer fee speculated to be somewhere around 4 million pounds.
Here is Austin's scoring record:
ADVERTISEMENT
Article continues below this ad
Kintbury Rangers : Apps 28 Goals 21
Hungerford Town : Apps 37 Goals 11
Poole Town : Apps 57 Goals 64
Swindon Town : Apps 65 Goals 37
Burnley : Apps 90 Goals 45
QPR : Apps 52 Goals 31
Career Total : Apps 329 Goals 209
His career stats speak volumes about what he lends to the team, but they look even more convincing when compared to the stats of two of his contemporaries.
(Games taken to reach 209 career goals)
Robin Van Persie : 447
Sergio Aguero  : 409
The above is clearly a testament to the lethality and poaching abilities of Charlie Austin.
Austin was the main reason why QPR were promoted to the Premier League last season, as he scored 20 goals,  the 20th being the one against Wigan which sent them to Wembley for the play-offs. Thankfully for QPR, Austin hasn't lost his poaching instincts and is currently QPR's leading goal scorer in the Premier League and the third highest scorer in the Premier League with 11 league goals, 1 behind Diego Costa and 3 behind Sergio Aguero. Austin again came to the rescue for QPR by scoring a hat-trick last weekend against West Brom as QPR came from 2 – 0 down to win the game 3 – 2.
All these instances are evidence of the fact that Austin deserves a place in the England National Team and people are starting to wonder when his time will come.
There have been many instances of good players not being called up for the England team in the past. Many people suggest that the main reason being that those being called up play for more 'illustrious' teams and are hence preferred over those playing for smaller teams. Austin deserves a call up to the team but is not even in the England Reserve team. Many have already started questioning Roy Hodgson's credibility as he has been preferring Rickie Lambert who is not just a liability for Liverpool, but also on the wrong side of 30.
ADVERTISEMENT
Article continues below this ad
Austin on the other hand is just 25 and is in his prime and would be a great backup for the injury-prone Daniel Sturridge, if not as a starting XI player.
Recently in an interview with The Mirror, Joey Barton voiced his frustrations over poor team selection of the England national team and Austin deserving a place in the England team. Barton talked about Rickie Lambert saying, 'I just think if you're not playing for Liverpool, who can't really hit a cow's a*** with a banjo at the minute in terms of their front-line, and you can't get a game for them, how do you get in the England squad?"
Even Hary Redknapp supported Austin and voiced his desire for an international call-up for his front-man at QPR.
ADVERTISEMENT
Article continues below this ad
Charlie Austin is a great striker who has time and again proved his worth. He may not be the quickest around the blocks, but his strength and instinct to make those forward runs make him an ideal No.9 and worthy of a place in the England National Team.