Chelsea vs Southampton: Player Ratings
Published 10/03/2015, 5:20 PM EDT
By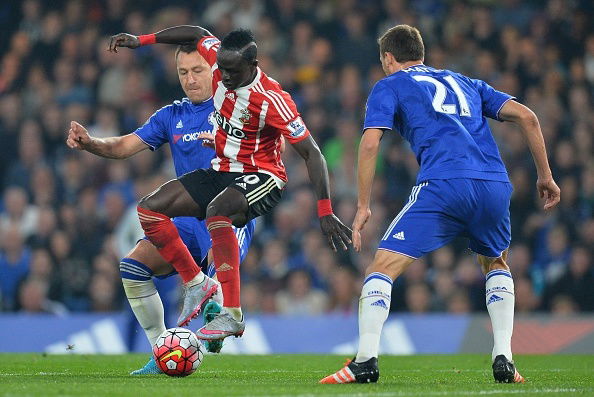 Chelsea 1-3 Southampton, Matchday 8.
ADVERTISEMENT
Article continues below this ad
Another home defeat for Chelsea and Jose Mourinho, this time against Koeman's Saints team. Except in the controversial Arsenal game, Chelsea have conceded two goals or more in every match, a big shameful mark on Jose. Southampton on the other hand were more solid defensively and showed great character to come back from behind and win it away from home.
Here are Player Ratings for the match:
ADVERTISEMENT
Article continues below this ad
Asmir Begovic – 6.5
The former Stoke city player personally made some good saves and tried his best to stop Southampton from scoring but his defense let him down. In the absence of Courtois and Cech, Begovic is doing great job for Chelsea but needs support from other players.
John Terry – 6.0
Terry, after being brought back in the starting line-up, would be disappointed with himself. He couldn't really inspire is teammates to comeback after two goals down and made some errors which cost the game (not the worst of all though).
Gary Cahill – 6.0
Cahill looked solid in the first-half but in the 2 he too perished along with his teammates mainly due to some poor decisions by him.
Branislav Ivanovic – 4.5
Almost everyone outside Chelsea can see how the Serbian International has been struggling since the beginning of the season. But Mourinho continues to insist on playing him. As usual, he was easily beaten by Tadic on few occasions and he was caught out of position as well. Overall, Ivanovic isn't having a good time on the field. Hopefully, the upcoming international break would help.
Ramires – 6.0 (Sub Off 45′)
Ramires as a holding midfielder did an average job by winning balls and distributed passes well. He couldn't really make an impact like Matic but did well defensively, to shield the back four.
Cesc Fabregas – 4.5
Fabregas' mistake led to Southampton's equalizer. Once again, the lack of awareness and that instinct to sense the danger which is so vital in center midfielder, clearly is missing in Fabregas. He could really have had an impact on the game going forward, but his passes lacked precision and he was short of ideas and never really created any chances.
Eden Hazard – 5.5
Chelsea was highly dependent on the Belgian and he was disappointing even though he tried, he still couldn't create anything. This season, Hazard hasn't really clicked. Nothing seems to be going his way. Hazard has been unable to take on defenders and is finding it difficult to cope with lack of space in opposition's defence.
Oscar – 5.0
Oscar is usually one of Chelsea's best sources for creativity in their play, but today he too was short of ideas and seemed clueless on the pitch. You would expect the player of his quality to be more handy with the ball in his feet.
Willian – 6.0 (Sub Off 63')
Willian scored through a free kick yet again, but apart from that he was very flat, couldn't inspire his team after they went a goal down.
Radamel Falcao – 5.0
Falcao simply wasn't doing enough. He came short for passes, made runs to create space but nothing really worked for him. He didn't create any chances for himself to get in the scoreline and was disappointing to see such a below average performance even after given full 90 mins.
Substitution
Nemanja Matic – 5.0 (Sub On 45′, Sub Off 73′)
ADVERTISEMENT
Article continues below this ad
Matic was brought on at half time for Ramires, which was more of a tactical change and didn't quite protect the back four as Chelsea went behind in 2 half and he was brought off again for Remy.
Pedro – 5.0  (Sub On 63')
Pedro came on from Willian to use his pace and trickery to create chances by running at the people but failed to control the ball on numerous occasions and made some loose passes.
ADVERTISEMENT
Article continues below this ad
Remy – 5.5 (Sub On 76')
Remy who came in for recently introduced Matic, had the sole purpose to win those long balls and try to either feed someone or score for himself but for the most part he even failed to win those long balls. Overall, off the bench he had nothing to offer to get Chelsea on level terms.