Chelsea vs Sunderland: 5 Talking Points
Published 12/19/2015, 1:53 PM EST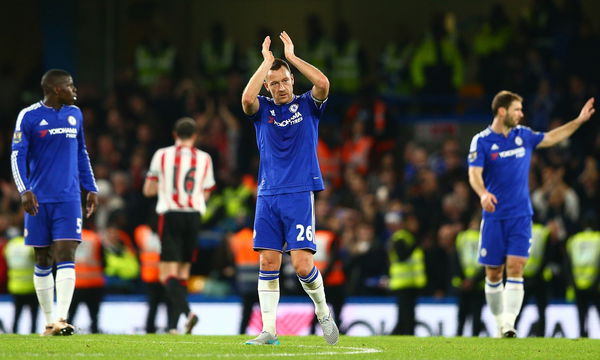 ---
---
5 talking points from ES as Chelsea return to winning ways.
ADVERTISEMENT
Article continues below this ad
Chelsea FC 3-1 Sunderland FC(Gameweek 17),
The game, much awaited after Mourinho's dismissal, was an amazing watch, as was the reaction of fans in support of their beloved manager. The players were back to their best and played like Champions. A few players like Fabregas and Costa however received a hostile treatment from fans, with boos sounding out as they were substituted. Nonetheless, it was a positive game for the Blues and a disappointing one for Sam Allardyce.
ADVERTISEMENT
Article continues below this ad
Best of all
Oscar, undoubtedly, was the best player on the pitch and the only player from the Chelsea side to have taken a shot outside the box. He looked sharp, and played with a high tempo and pushed others to play at the same level.
The 6' 7″ keeper, Pantilimon, was the best player for Sunderland. He made some great saves giving Sunderland hope to bounce back, soectacularly keeping out Loic Remy's shot.
Worst of All
Zouma was impressive in the first half but started to struggle in the 2 half. The youngster looked nervy after the introduction of Borini and almost gave a goal away due to lack of communication between Courtois and him.
Coates had a bad game as he struggled from the start of the game. He was beaten far too easily by Ivanovic which lead to the first goal and was soon taken off for Johnson as Sunderland resorted to four at the back.
Key moments
The header from Ivanovic which resulted in a goal early in the game set the tone of the game. A few minutes later the 2 goal, scored by Pedro, made it difficult for Sunderland to find their way back in the game. Also, the penalty converted by Oscar was the first for Chelsea this season.
A moment between Zouma and Courtois could have been key to the game's result if that ball had fallen nicely for Sunderland striker and a goal there would have resulted in a fight back.Facts and Formation
Chelsea played their usual 4-2-3-1 formation with Fabregas in mid along with Matic and Costa upfront.
Sunderland made a change and played with 5-4-1 initially but after going a goal down they changed to 4-4-1-1 formation brining in Johnson
Chelsea have scored 3 goals for first time since Pedro's debut game (WBA).
ADVERTISEMENT
Article continues below this ad
Last win for Chelsea in BPL was against Norwich on 21 November, 2015.
First penalty for Chelsea this season which was converted.
What to Expect
ADVERTISEMENT
Article continues below this ad
Looks like the departure of Mou has brought some positive changes in the performance for sure and surely it won't be wrong to expect the Blues to perform like this on regular basis. Also, Hazard's addition will only improve their performance as they face Watford, who are in great form, next .
From Sam's side we can expect a bit of fight to get themselves out of relegation zone and an improvement in defending as they were opened up very easily today on numerous occasions and gave away 2 poor goals.