China again promises to clean up air ahead of 2022 Games
Published 12/15/2015, 9:47 AM EST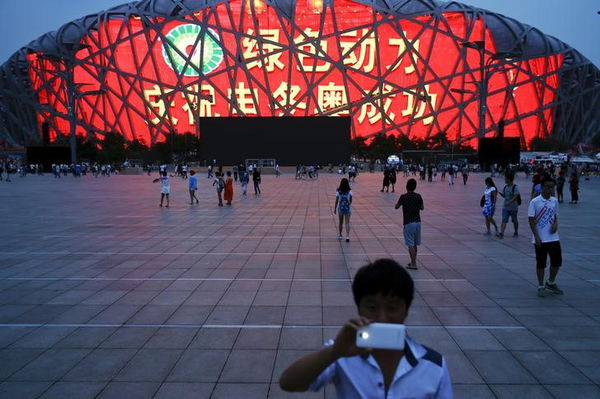 ---
---
BEIJING (Reuters) – China promised again on Tuesday to take steps to reduce air pollution in the run-up to the 2022 Winter Olympics, to be held in Beijing and a nearby city, after a choking pall of smog prompted the Chinese capital's first ever red alert last week.
ADVERTISEMENT
Article continues below this ad
Government officials have sought to allay fears Beijing's notoriously poor air will mar the Winter Games, though the city won wide acclaim when it hosted the summer Olympics in 2008.
Speaking at a ceremony marking the formal establishment of the Games' organising committee, Vice Premier Zhang Gaoli promised authorities would take 'realistic action' to gradually reduce levels of hazardous particle pollution.
ADVERTISEMENT
Article continues below this ad
"This is the greatest hope of regular people," Zhang, who sits on the ruling Communist Party's elite Politburo Standing Committee, said at Beijing's Great Hall of the People.
Zhang did not say what specific measures the government would adopt to reduce pollution.
Environmental degradation has been the cost of decades of breakneck economic growth in China, he added.
In March, the Beijing bid committee said the government was spending $7.6 billion on efforts to tackle smog.
ADVERTISEMENT
Article continues below this ad
Last week, hazardous pollution levels in Beijing triggered the capital's first "red alert," meaning vehicles were ordered off the roads, classes were cancelled and heavy vehicles banned.
A red alert is triggered when the government believes air quality will surpass a level of 200 on an air quality index that measures various pollutants for at least three days. The U.S. government deems a level of more than 200 "very unhealthy".
Criticism over a lack of snow in Beijing and China's poor human rights record have also dogged the city's bid to host the games.
ADVERTISEMENT
Article continues below this ad
Beijing in July beat the Kazakh city of Almaty to win the 2022 Winter Olympics, after all the other cities which had considered bids, including Oslo, dropped out. The nearby city of Zhangjiakou will jointly host the Games.
(Reporting by Megha Rajagopalan; Editing by Ben Blanchard/Sudipto Ganguly)