Chung takes aim at Blatter, brings up Prince William
Published 10/07/2015, 11:20 AM EDT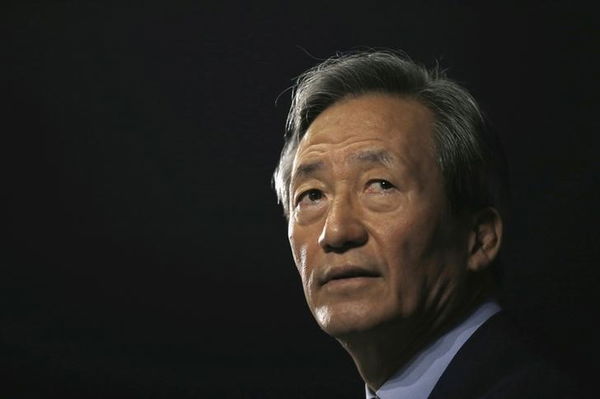 ---
---
REUTERS – FIFA presidential hopeful Chung Mong-joon, who says he is facing a 15 year ban from the game, said on Wednesday that if he was guilty of attempted vote-rigging, then Britain's Prime Minister and Prince William should face charges with him.
ADVERTISEMENT
Article continues below this ad
Chung, who also said he would sue "hypocrite and liar" Sepp Blatter for embezzlement over his salary and expenses, denied he had behaved improperly during the awarding of World Cup hosting rights for the 2018 and 2022 tournaments.
Brushing aside claims he had attempted to strike a deal with England during that process, which saw Russia and Qatar win hosting rights, Chung said the meeting in question had been attended by David Cameron, the British prince and then English FA representative, Geoff Thompson.
ADVERTISEMENT
Article continues below this ad
"Then they should try all these people, Prince William and Prime Minister Cameron too," he told the 'Leaders in Sport Business' event in London.
Chung said he was being charged with violating the FIFA ethics code on six counts. If found guilty, he would not be able to stand in the election to find a successor to Blatter.
FIFA's Ethics Committee has declined to comment on Chung's allegations.
Turning his fire on the outgoing head of world soccer, Chung said he had called on Blatter to declare his salary and expenses during a FIFA meeting in 2002. The Swiss has never done so.
ADVERTISEMENT
Article continues below this ad
"For him to get paid without Exco (executive committee) approval is embezzlement. This is why I am going to sue Mr Blatter," Chung said.
"Mr Blatter, in short, is a hypocrite and a liar," Chung added, saying he would give back any amount he won in court to FIFA's development programmes.
FIFA declined to comment on Chung's speech referring inquires to Blatter's lawyer, who was not immediately available for comment.
ADVERTISEMENT
Article continues below this ad
(Reporting By Simon Evans; Editing by Jon Boyle)