CM Punk Makes Pro-Wrestling Tees History with Record Breaking Sales After AEW Debut
Published 08/23/2021, 11:46 AM EDT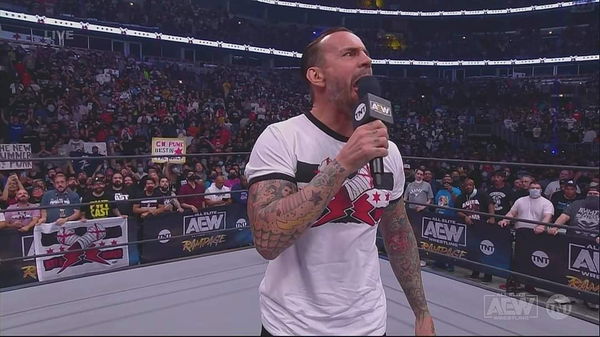 ---
---
CM Punk has returned to pro wrestling, and the buzz is rather unreal. It isn't only the fans and industry who are happy, but celebrities and social media stars, are posting this as an unreal moment. The weekend is well behind us, but it seems the ripples of this legendary comeback are here to stay.
ADVERTISEMENT
Article continues below this ad
Punk certainly moved the needle with his comeback. While many fans say he broke the compass, many say he didn't. However, he certainly broke the Pro wrestling Tee website multiple times. After his walk to the ring, Punk subtly referenced him being overwhelmed by the heat. This led to him removing his jacket and showcasing his new t-shirt with the classic background of the fist catching lightning. They made multiple tweets from official handles and wrestlers, referencing that the site was crashing continuously.

ADVERTISEMENT
Article continues below this ad
CM Punk Crashes the Internet
It is unreal when you sell out an arena with over 15,000 people on just speculation. It just seems the comeback and the ice cream bars weren't the only gifts Punk came bearing. CM Punk broke the record for most T-shirts sold in a day on Pro Wrestling Tees. Previously, the Icon, Sting held the record when he returned in December.
Then the sad demise of Brodie Lee catapulted a lot of tee sales towards the end of December. Punk not only crossed them rather comfortably, it resulted in the site crashing multiple times. He did a lot more, as Pro Wrestling Tees had to announce that they were out of shirts to print on.
ADVERTISEMENT
Article continues below this ad
"Due to supply shortages on ringer t-shirts (white tee with black cuffs and neck) we do not have enough ringers in stock. Rather than completely putting the product out of stock, we are now offering it to you on a white t-shirt in many different styles." Pro Wrestling Tees mentioned they are working on getting Ringer tees back as soon as possible.
ADVERTISEMENT
Article continues below this ad
It seems he did move the needle a decent bit. It will be intriguing to watch what financials he brings to AEW with the PPV sales as well as when he actually starts wrestling and his popularity grows even more.