CM Punk Wore These Awesome Shoes For His Debut on AEW Rampage
Published 08/21/2021, 8:01 AM EDT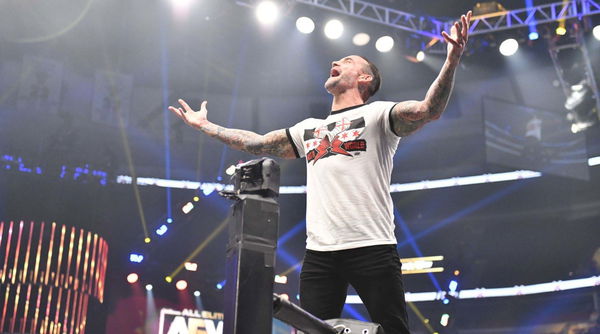 ---
---
The return at the United Center in Chicago is trending all over the world. The internet is ablaze with the news of Punk returning. CM Punk returned to AEW with a thunderous pop. The man who gets fans to follow him everywhere from movies to UFC is back in a wrestling ring. Courtesy of AEW, we have also got to know that this won't be a part-time gig.
ADVERTISEMENT
Article continues below this ad
CM Punk in his post media scrum noted that he is here for a multi-year deal and will be a regular member of the roster. Punk is probably one of the most well-documented wrestlers in today's times. Having stayed away from the business for so many years, his interactions lead to the intrigue of fans. From his love for Pepsi to his love for Chicago, everything is well known.
Punk And his Attire on AEW Rampage
ADVERTISEMENT
Article continues below this ad
Punk returned to a rabid crowd would be an understatement. His return didn't have any sort of special setup, no fancy outfits, no over the top shenanigans. Just a simple yet probably the most pivotal walk down the ramp. Punk has always been the anti-hero of sorts, speaking for the crowd. His voice for the voiceless character has transcended permanently to the fans.
A simple black and white attire, Classic White tee, black cargo's, Vans shoes. the following was enough for the cult of personality to get a deafening pop. CM Punk likes to keep it simple yet effective, and he did with his pair of shoes. Van 36 is what he wore to the ring, old school. A simple yet classic Van recognisable shoe, perfect for the masses. Indeed, even his attire personified the man.
ADVERTISEMENT
Article continues below this ad
Shoes to Fill: CM Punk
For years fans have been thinking of the next guy who could fill Punk's shoes in the Industry. There were some upstarts, however, none could actually do it. Punk is back now, though, and he is here for the long haul. A microphone in hand, with unlimited pipe bombs, the classic white shirt. Punk was in his element in front of a rabid Chicago crowd.
The pop was deafening and Punk was emotional, as was the crowd and everyone watching at home. It would be rather interesting to notice the matches and feuds Punk could enter. The talent he would elevate and the feuds with legends is exciting for everyone.
ADVERTISEMENT
Article continues below this ad