Colby Covington Controversies: Every time the Chaos Crossed the Line
Published 01/03/2020, 11:51 AM EST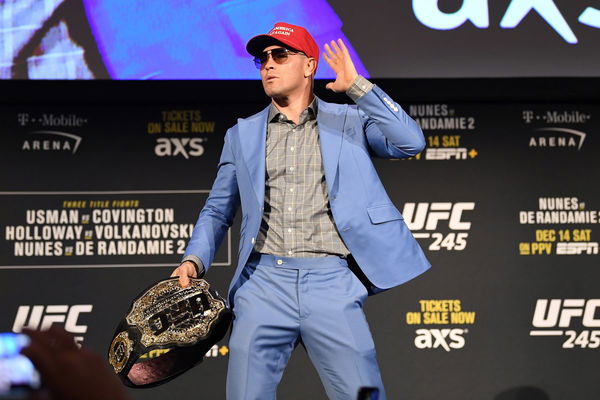 ---
---
One of the most thrilling eras of UFC is the era of Conor McGregor. The sport of MMA  gathered a ton of attention thanks to McGregor's trash talk leading to his fights. It also created a new formula to sell more PPVs. Of Course, without performance inside the octagon, the trash talk looked foolish. With Colby Covington, it's the opposite.
ADVERTISEMENT
Article continues below this ad
In fact, Covington has backed up his talk with solid results. While doing so, he has also separated himself from the rest of the pack with his pro wrestling "heel" gimmick.
Former interim welterweight champion, Covington has portrayed himself as a ladies man, a staunch Trump supporter, and a heel persona. While there are a ton of moments when Covington's gimmick was hilarious, there are also times when Covington has crossed the line and found himself in controversies.
ADVERTISEMENT
Article continues below this ad
Let's examine the magnitude of malice in the actions of the bad guy, Colby Covington.
Colby Covington Calls Brazilian Fans "Filthy Animals"
After a 4-fight winning streak in UFC, Covington fought Demian Maia in UFC Sao Paulo, 2017. Leading up to the fight, Covington claimed that he was going to retire Maia. He even spoke rudely about Brazil during the media scrums.
"When I think of Brazil, I think of beautiful women with beautiful bodies. I have not really seen many of them. Brazil has been a disappointment. bunch of angry animals running around here telling me I am gonna die. So F**k Brazil." stated Covington.
And he did exactly what he said he would; he dominated Maia to win a unanimous decision. Then he would go on to shock the world on the microphone during the interview with Daniel Cormier. Taking a jab at the crowd in the arena, Covington said:
"Brazil, you're a dump! All you filthy animals suck. I've got one thing to say: Tyron Woodley, I'm coming for you. If you don't answer the front door, I'm going to knock it in and I'm going to take what's mine, that welterweight belt!"
In his next fight, Covington got another dominant victory over another Brazilian, Rafael Dos Anjos making the entire thing a little salty for the Brazilian fans.
Fabricio Werdum Throws a Boomerang at Colby Covington
Colby Covington had an altercation with former UFC heavyweight champion Fabricio Werdum in Australia. Werdum looked like the aggressor and he threw a boomerang at the end before being separated.
Werdum said that the altercation started after Covington called him "filthy Brazilian". He even said that Covington kicked him. However, according to Covington, it was Werdum who started the feud. He stated that Werdum and his coach even threatened to kill him.
"All of a sudden I get hit in the face from the side," Covington said. "I'm like, 'Whoa, what's going on?' I'm a little concussed, like a little bit messed up in the head. Like, whoa, what just happened? All this heat-of-the-moment type stuff. I look up and it's Fabricio Werdum and he's still coming at me with his coach Rafael Cordeiro and they're acting like they're gonna jump me." said Covington.
Covington decided to press charges on Werdum for the attack outside the hotel before UFC Sydney. Considering the relationship Covington has with Brazilians, it is not surprising that he gets into an altercation with a Brazilian champion.
Heated Argument Between Colby Covington and Michael Bisping
Well, the interview started with Covington calling out the reporters in the studio for not giving him the credit he deserves. Michael Bisping congratulated Covington for the win, however, it is safe to say that he did not handle the situation to the best of his abilities. Bisping replied to Covington:
"No one's making excuses, Colby, you fought a good fight. Why are you so defensive? Why do you have to be a prick?"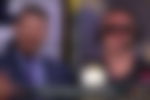 Covington even called out Bisping to come out of retirement for a fight. Bisping replied: "You are standing there with the shiny belt on your shoulder. Do you actually consider yourself the welterweight champion of the world?"
Later when Covington claimed that he would go to White house with the interim title, Bisping mocked him saying:
"Do you really have the invite to go to the White House? or is that just another figment of your imagination like being the champ?"
Well, Covington was quick on his feet this time and replied:
"The only figment of my imagination is you must not be seeing things right with that one eye".
Well, it was not the last time we saw Covington having a back and forth with a reporter as he would get into a heated argument with Kamaru Usman during the post-fight interview on ESPN.
Colby Covington's "Super Distatsetful"  Comments On Matt Hughes
After being away from the sport for a meaningful period, Colby returned to fight the former UFC champion and his former teammate, Robbie Lawler. Covington went into the fight claiming that he would punish Lawler for betraying American Top Team after losing the welterweight title.
Well, Covington did keep his promise. He put the best performance of his fight career and completely outclassed Lawler. However, his comment on an extremely sensitive topic took a lot of attention away from his solid performance.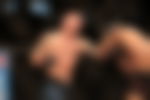 Robbie Lawler was very close to UFC Hall of Famer, Matt Hughes.
Former welterweight champion, Hughes is one of the forefathers of the sport. Apparently, Lawler trained with Hughes during the early stage of his career. Matt Hughes suffered severe injuries in a near-fatal train accident in 2017. And after the win Colby sent a message to Lawler and the rest of the division in a rather controversial manner:
"Let's talk about the lesson we learned tonight. It's a strong lesson Robbie should have learned a lesson from his buddy Matt Hughes. You stay off the tracks when the train is coming through, junior. Doesn't matter if it's the Trump train or the Colby train, get out the way."
Colby Covington received a lot of backlash from the MMA community for this comment. Even the BMF of UFC, Jorge Masvidal found the comments "super distasteful". Matt Hughes responded to Covington's remarks with: "Not sure if Colby Covington should have used my accident as fuel for his post-fight trash talk, but that was one heck of a fight. Nice win for American Top Team, and Robbie Lawler always puts on a good fight. Reminder though, this is the fighting world. People trash talk and you gotta have thick skin."
One thing was sure after this. No one is safe when Covington gets on the microphone – not even former UFC champions.
Colby Covington Insults Miesha Tate on-air
Talking about former UFC champion, Matt Hughes was not the only one who received harsh comments from Covington.
Colby had a few things to say to the former champion, Miesha Tate after the Lawler fight.
He appeared on Miesha Tate's Sirius XM radio show, "MMA Tonight." after the Lawler fight. Covington confronted Tate for "allegedly"  talking behind his back.
"It gets back to me," Covington said. "All the people say how (you say) negative thoughts about me, and how I'm this and that. I just think it's very hypocritical because I don't think you're a perfect person. You might have some skeletons in your closet, as well."
Though Tate was respectful to Covington, she could not stop Covington from speaking his mind on air.
"I'm not going to sugarcoat things," Covington said. "I'm telling you how it is because I'm a real person. I'm not going to act like I'm not going to talk about it, when hey, you guys want to talk about me, here I am to defend myself." continued Covington.
Well, as a result of that Covington got banned from the radio show and it was not the only ban he has received in recent times.
Colby Covington Scuffles Kamaru Usman and Ali Abdelaziz
Kamaru Usman won the welterweight title in UFC 235 thanks to a dominant performance against Tyron Woodley. However, the octagon was not the only place Usman fought that weekend as he had a scuffle with his rival, Colby Covington at the Palms.
ADVERTISEMENT
Article continues below this ad
Earlier during the open workout before UFC 235, Covington appeared during Usman's workout sessions with a microphone and heckled him by saying "the real champ is here". It did not just end there. Usman and his manager, Ali Abdelaziz was seen having an argument with Covington in the buffet-line. Abdelaziz was even seen throwing a punch at Covington.
"I was staying over at the dump, the Palms, and I'm waiting in the buffet line. I'm just trying to get some crab legs. Can't the man get some crab legs? Can the man, the champ, get some crab legs in peace? All of a sudden low-energy Marty comes, that terrorist rat Ali comes and some other Sasquatch and they start pushing and swinging and start putting innocent kids' lives in danger and a pregnant lady. There's a pregnant lady, and she's screaming, 'I'm pregnant, stop this!' and Ali is still pushing, trying to make a scene, Usman is still trying to scream at me, 'I'm going to get you!' and his little Sasquatch is throwing punches at my friend and trying to punch me. It's a complete joke. I can't believe that they allow that in Vegas. Just a bunch of filthy animals." stated Covington.
ADVERTISEMENT
Article continues below this ad
After the incident, Covington received a ban from the Palms. However, that was not going to stop him carry his gimmick.
With his heel persona, Colby Covington is easily one of the most disliked athletes in UFC. However, his gimmicks can be very misleading. It has nothing to do with the skillsets that Covington brings into the octagon; he is one of the best welterweights at the moment. However, it can not be argued that he does cross the limit every now and then.