Conor McGregor has shown his capability of being a successful businessman. From the time his stock rose high in the UFC, he has made it a point to capitalize on the brand value of his name.
His whiskey venture, Proper 12, was one of his most ambitious projects when it was released in 2018. It was before his famous bad blood fight with his nemesis Khabib Nurmagomedov. Even during the lead up to the fight, he was aggressively promoting his product. That led to a lot of people believing that the whiskey was one of the big reasons for his subsequent defeat at the hands of the Russian.
People complained about how they had to witness a fighter who was a mere shadow of his former self. And part of the blame went upon Proper 12. Even McGregor came out later and accepted that he wasn't focused on training to fight Khabib. However, he never laid the blame upon his business ventures.
Now that Conor is back in business, he has also taken it upon himself to promote his whiskey. And what better way to do so than putting its name on the mat in the most awaited boxing match in recent history.
Conor Mcgregor sent a bottle of proper 12 to Tyson fury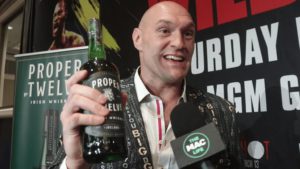 Proper 12 was the proud sponsor of Deontay Wilder vs Tyson Fury's rematch that happened in Las Vegas, Nevada. The floor of the ring is usually lined up with the name of some big brand or the other. This time it was Proper 12.
McGregor had even twitted a picture of the logo, claiming to be happy and proud at the same time.
So excited! So honoured!
Thank you to all the fans of @ProperWhiskey!
Baby we did it!!!! ☘️ pic.twitter.com/V5liA7yV7g

— Conor McGregor (@TheNotoriousMMA) February 22, 2020
The Irishman has also been a vocal supporter of Tyson Fury. Their name had been linked in the past when Fury said that Conor had been training him for MMA. This time around, "The Notorious One" had sent a bottle of Proper 12 to "The Gypsy King" in hope for a celebration after the fight.
Fury, being the sport that he is, accepted the gift and even invited McGregor to Las Vegas for a drink after the fight. Whether the celebration happened or not is still unknown. However, what is certain is that McGregor will be raising a toast from where ever he is. After all, its a matter of celebration for him both at a personal and professional level. His whiskey has been stamped in the minds of millions of viewers that have watched the fight. And in just a matter of seven rounds, his wish came true with Fury knocking out Wilder.
Also Read: Conor McGregor Reveals the Reason Behind His "Notorious" Entrance Music
Continue the conversation on Telegram, join other MMA fans on MMA Fans Group