Controversial Sponsor Taunts Williams F1 Amidst Financial Misery
Published 06/01/2020, 1:50 AM EDT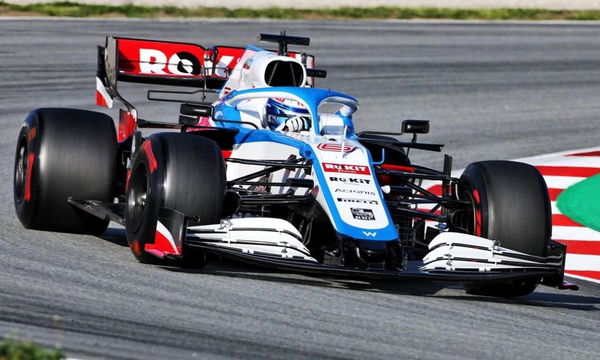 ---
---
Only a couple of days ago Williams had confirmed that ROKit would no longer be their main sponsor. The Grove based outfit has already announced a formal sale process to ensure their future in F1. The last few seasons have been pretty bad for Williams both on and off the track. The previous season saw them record a 13 million loss and had, by far, the worst car on the grid. The COVID-19 pandemic has only increased the pressure on them.
ADVERTISEMENT
Article continues below this ad
Williams remains hopeful that an investor who buys either a majority stake or a minor one, will be able to take them to their glory days. However, after hearing of recent interest from a certain company, they may want to be cautious of selling them any stake.
Rich Energy taunt Williams
ADVERTISEMENT
Article continues below this ad
Rich Energy Ltd. has already made itself famous for all the wrong reasons in its short stay in F1 with Haas. The controversial company was only founded as recently as 2015. It became infamous for late payments, an extensive list of legal battles along with some nasty twitter barbs against the Haas F1 team. All of this off-track turmoil caused Haas to cut its ties with Rich Energy in September 2019.
Now, Rich Energy is trying to re-enter the F1 world by buying a stake in Williams. However, this company has a rather odd way of announcing its interest.
ADVERTISEMENT
Article continues below this ad
The Rich Energy team put out a tweet on Twitter and a picture of the 2019 Williams F1 car with its own logo on it instead of the ROKit logo. The tweet said," The proposed Rich Energy Williams Racing car at Williams Racing HQ. A great team that with the right management and investment can get back on the podium in F1."
Apparently Rich Energy had agreed to a deal with the Grove based outfit last year only to leave the F1 team high and dry at the last minute by signing a deal with Haas.
Williams will want to be wary of any deal with Rich Energy. After all the recent problems that Williams is dealing with, I don't think they'll want any new ones.
ADVERTISEMENT
Article continues below this ad