Controversial Team Orders in Formula 1
Published 10/01/2018, 3:14 AM EDT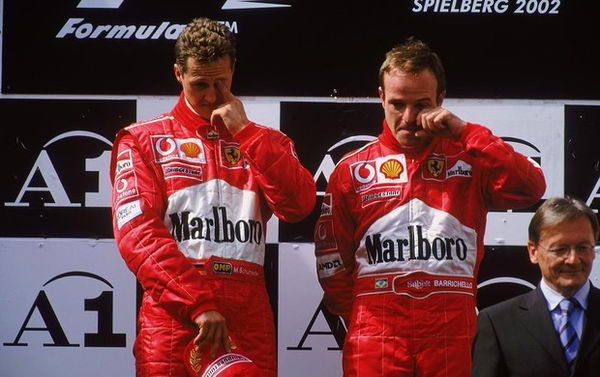 ---
---
Formula 1 is said to be a team sport and team orders are nothing new. Most teams discretely used them to make sure the team benefited and scored the maximum possible points, irrespective of the ban. In the aftermath of the Schumacher-Barrichello incident in 2002, team orders were banned in 2003. The FIA rule stated,"Team Orders that could influence the outcome of a race will be banned". But teams did turn to team orders by using coded messages over the radio to let their drivers know. In 2010, the FIA scrapped this rule. They said that there was no way to properly define team orders. From then on there have not been any rules against team orders in the regulations. But there some teams have issued a number of controversial team orders. This artificially influenced the race outcome.
ADVERTISEMENT
Article continues below this ad
Most Controversial Team Orders
1998 Belgian Grand Prix: Ralf Schumacher and Damon Hill of Jordan
ADVERTISEMENT
Article continues below this ad
After a major crash involving many cars, there was a 2nd race. McLaren had the front row but fell behind after the major crash. Damon Hill took his Jordan to 1st position behind the two Ferrari.
Eddie Irvine spun out of the race from 3rd place giving it to the Jordan of Ralf Schumacher. Michael Schumacher quickly overtook Damon Hill to take the lead of the race. Halfway through the race, Michael was about to lap the McLaren of David Coulthard. DC stayed on the racing line when he slowed down to let Michael pass. Excessive spray reduced visibility and Michael crashed into the back of DC.
Jordan were now in an unexpected position 1st and 2nd position. Damon was leading but Ralf was quicker. Ralf was lapping 3 to 5 seconds a lap quicker than Hill.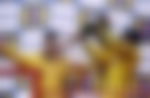 This led to Damon getting on the radio to Eddie Jordan telling him if they raced, they might not finish, but if they don't Jordan had a very likely chance of finishing 1-2. Eddie quickly got on the radio to Ralf and issued orders not to overtake Damon. They ended up finishing 1-2. Damon with his 22nd and last F1 win and Jordan with their first. The Jordan team got the job done. But it still classifies as one of the most controversial team orders.
2002 Austrian Grand Prix: Rubens Barrichello and Michael Schumacher of Ferrari
Ferrari are no strangers to controversial team orders allegations. But this incident started everything. The FIA introduced the Team Order rule the following season. Rubens Barrichello was leading when Jean Todt asked him to let Michael Schumacher pass him.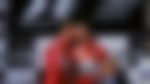 On the last corner of the final lap, Rubens slowed down allowing Michael to overtake him on the pit straight just a few meters behind the finish line. The fans and the media heavily criticised Ferrari's decision.
Michael hesitated to take the top step of the podium. He let Rubens stand in the middle while the German national anthem played. It was something both drivers were ashamed of. Many regarded this as a dark day in Formula 1. As a result, team orders were banned the following year.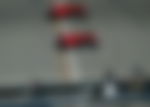 In the same year at the US Grand Prix in Indianapolis, Michael returned the favour when he slowed down on the final straight to allow Rubens to take the win. This finish still holds the record of the closest finish in F1 with 0.011 seconds between the two Ferrari.
2008 Singapore Grand Prix: Nelson Piquet Jr. and Fernando Alonso of Renault
One of the most controversial team orders in F1 was by the Renault team at the 2008 Singapore Grand Prix. 12 laps into the race, Fernando Alonso pitted first. Two laps later, his teammate Nelson Piquet Jr. crashed into the wall bringing out the safety car and allowing Alonso to take the lead and finally win the race.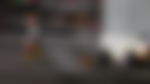 The story broke out later in 2009 that Nelson had deliberately crashed his car into the wall to help Alonso take the win. This after he left Renault and decided it was time to come clean of his actions.
Renault admitted to this and the FIA banned Pat Symonds, their technical director for 5 years from Motorsports. Former Renault Team Principal, Flavio Briatore was given a lifetime ban. The Renault F1 team were still allowed to take part in the Championship. But they were on a tight leash. If anything similar happened, a ban would be the only option for the FIA.
Nelson was free to race in F1 as he got immunity for his evidence against his team. But this incident destroyed his F1 career.
2010 German Grand Prix: Felipe Massa and Fernando Alonso of Ferrari
Fernando Alonso won the German Grand Prix under controversial circumstances. He made a suspicious pass over his teammate Felipe Massa, late in the race. Team orders were banned at this point by the FIA but some teams were still using them discretely. But this instance was too obvious by Ferrari.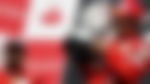 Massa's race engineer, Rob Smedley said on the radio,"Fernando is faster than you. Can you confirm you understood that message?" And moments later Alonso overtook Massa quite easily. He radioed Massa saying,"Good lad. Just stick with it now, sorry."
Ferrari denied they gave any team orders but the radio messages were quite clear. And the apology by Rob clearly indicated they were team orders and he wasn't happy to give them to Massa. However, Ferrari were found guilty and fined $100,000.
The FIA's rule stated that team orders were prohibited if they affected the result of the race. As Alonso went on to win the race, it was a clear violation of the rule. The FIA scrapped the rule next season as they stated it wasn't quite working. Since then, A team order rule hasn't been enforced.
2013 Malaysian Grand Prix: Mark Webber and Sebastian Vettel of Red Bull Racing
On lap 44 at Sepang, a quick Sebastian Vettel was catching up with teammate Mark Webber who had just come out of the pits. Team Principal, Christian Horner gave team orders to Sebastian telling him to hold position and not overtake Mark.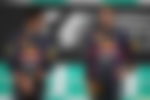 Red Bull always used the code "Multi 2-1" when they want car number 2(Mark) to finish ahead of car number 1(Vettel) which was also used in this case. But Sebastian did not follow team orders and overtook Mark to win the race. Sebastian later said he didn't hear the message but also added he might not have done things differently even if he'd heard it.
ADVERTISEMENT
Article continues below this ad
Mark clearly voiced out his disappointment on the podium interview as well as in their exchange before the podium ceremony. Seb's actions disappointed Horner. But he also pointed out that two races earlier, Mark was given the same instructions which were also not followed. This was a case of controversial team orders that ruined a perfectly decent partnership.
2018 Russian Grand Prix: Lewis Hamilton and Valtteri Bottas, Mercedes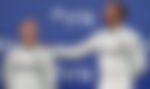 Mercedes driver Valtteri Bottas had scored pole position at the Russian Grand Prix. The Finn was leading most of it when the team radioed him to let Hamilton past. Bottas immediately complied and slowed to a crawl, allowing his teammate through. What made it more heartbreaking was the fact that he had not won a race this season.
ADVERTISEMENT
Article continues below this ad
Afterwards, Toto Wolff radioed Bottas again, promising to discuss the situation after the race. Even Hamilton himself was disappointed by the manner in which he had won. This was the latest form of controversial team orders that potentially robbed Bottas of a well-deserved win