Cook Out, Bring Pietersen In!
Published 12/20/2014, 10:29 AM EST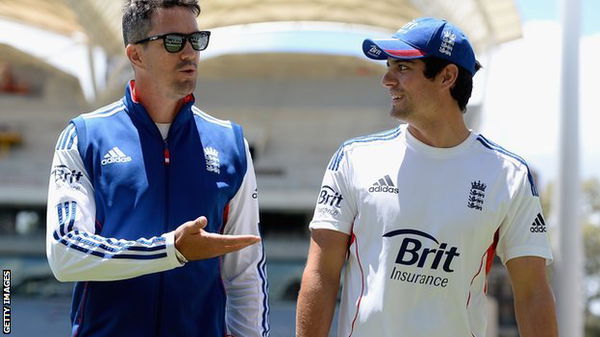 ---
---
"All KP fans want to watch him in England blues one more time and the ECB will have to turn their attention to him one more time."
ADVERTISEMENT
Article continues below this ad
The most talked about news in World Cricket recently has been the unheralded firing of Alastair Cook as captain of the England ODI Team ahead of the forthcoming World Cup 2015. In the wake of recent events, this comes as a major surprise for cricket fans who didn't expect such a drastic measure ahead at this time. Time has been given to Cook, and nothing much has changed over the past few months about England's tale of woe in the limited overs format. Though Cook was dragging the England team down and something had to be done, the fact his sacking comes two months before a World Cup raises plenty of questions.
The England selectors, led by James Whitaker, met on Friday at Trent Bridge to pick the squad for the World Cup, and indicated their desire for a change in leadership to the managing director of England cricket, Paul Downton. According to an ECB statement, further formal approval was then given by the ECB chairman, Giles Clarke, before the decision was ratified.
ADVERTISEMENT
Article continues below this ad
Whitaker said: "We spent a considerable time yesterday discussing the make up of a squad that gives England the best possible chance of success at the World Cup which begins in less than two months. Having reviewed the recent series against Sri Lanka we came to the conclusion that there was no place for Alastair Cook amongst our strongest 15 one-day players and therefore recommended Eoin Morgan be appointed one-day captain.
"We always said we would review this after the series. It was unfortunate from Alastair's point of view but we have given the coaches the best possible team for the World Cup.
"Alastair, I have always said, is a man of immense integrity and honesty and he was determined to see it through. He has put more into England cricket than most people. He is a unique player. He is obviously very disappointed. There has been a lot of pressure on Alastair. He has carried it well. He has taken a lot of weight of England cricket for a number of months. I feel for him. We hope he will return to Test cricket fresh and strong."
The ECB's decision to sack Alastair Cook as ODI captain may be overdue, but it is also correct and gives England an outside chance of success at the World Cup.They had almost no chance with Cook in the side. They were carrying a man who had scored one half-century in his last 22 innings and had not managed a century for 30 months and 45 innings. That is not a poor run of form; it is a famine. To say the least, strategies must be changed and game plans must be modified with Cook out of the picture.
One such strategy might be calling back arguably England's best batsmen ever.
The one person who was on cloud nine shortly after this decision was made was none other than Kevin Pietersen. Pietersen was axed by England in the wake of the Ashes whitewash last winter, with ECB managing director Paul Downton since claiming that the 34-year-old had become "disengaged" from the side.
Kevin Pietersen insisted he would listen to any offer to return as England selectors met on Friday to decide which players are set for World Cup duty. The batsman's international career looks to be over after he was ditched from the England set-up following last winter's heavy Ashes defeat, and went on to write a controversial autobiography. He wasn't in the most subdued of modes earlier in the week, as could be seen on Twitter :
— Kevin Pietersen (@KP24)
"@MattWabe: The @ECB_cricket selectors meet today. Get @Eoin16 as captain and a little man called Kevin @KP24 into the side." Phone is on! 
After the news reached him, Pietersen tweeted his hope that he would get the chance to play under England's new ODI captain:
— Kevin Pietersen (@KP24)
"Great news that @Eoin16 is new England 1-day captain. Top player, leader and bloke. Hope I get to play for him."
ADVERTISEMENT
Article continues below this ad
It is no mystery that Cook hasn't favored Pietersen at all and has always seen him as dangerous to the sanctity of the team as a whole. Pietersen has been equally at fault and has provided enough reason for people to believe that his inclusion in the team will lead to more precariousness within the team. But his formidable record and prodigious ability with the bat will make selectors think again.
England's ODI form has been very poor and the recent 5-1 loss in Sri Lanka combined with a new leader to take up the mantle makes the need for experienced performers even more with the World Cup approaching. Kevin Pietersen's 66 recently in the Big Bash proves that even at 34, he is as dangerous as ever. Support from Andrew Flintoff and Michael Vaughan surely does help his cause as well.
All KP fans want to watch him in England blues again and the ECB will have to turn their attention to him one more time.
ADVERTISEMENT
Article continues below this ad