Coquimbo Unido vs Universidad Catolica Takes an Ugly Turn as Fans Throw Objects
Published 08/15/2019, 5:51 AM EDT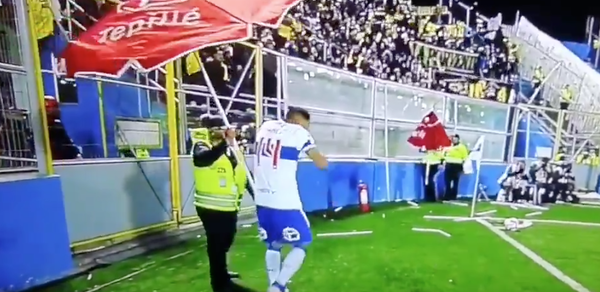 ---
---
Sometimes, football fans can go quite overboard with their devotion to their favourite teams. Especially in places like South America, the fans tend to go a little crazy, but this only occurs if their team is losing. For example, during a Chilean League match between Universidad Catolica and Coquimbo Unido, a strange incident occurred. Sometimes, the irate fans will throw anything that they can get their hands on.
ADVERTISEMENT
Article continues below this ad
While Catolica's Cesar Pinares went to take a corner kick, he found himself getting showered by various objects. Luckily for him, one of the security guards attempted to shield him with an umbrella. After a fair delay, Pinares finally managed to take the corner successfully.
The away following of Coquimbo Unido fans not letting Universidad Católica's Cesar Pinares take a corner here. Feels like the umbrellas are part of the problem and just encourage objects to be thrown… pic.twitter.com/iUko2gpSYj

— Adam Brandon (@AdamBrandon84) August 11, 2019
ADVERTISEMENT
Article continues below this ad
At the time of the incident, which was in the 57th minute, Universidad Catolica were leading 1-0, courtesy a goal from José Pedro Fuenzalida. Unfortunately, they squandered their lead when defender, Valber Huerta scored an own goal, levelling the score.
As mentioned before, when angry, the fans will grab the nearest object and throw it on the field. Some the the strangest objects include, wheelbarrows, which were flung by South American fans after losing to Sao Caetano in the 2004 Copa Libertadores.
Then, during a Hansa Rostock vs Carl Zeiss Jena German third division match, fans flung dead fish at the hosts' terraces.
In another incident, Dynamo Dresden were slapped with a £54,000 fine after a bull's head was thrown alongside coins when they face RB Leipzig.
In 2002, Luis Figo became public enemy no.1 in Barcelona after swapping to Real Madrid. On his initial return to play Barcelona, the Portugal winger was kept off corners, but he was not afforded the privilege in 2002.
ADVERTISEMENT
Article continues below this ad
The image of Figo taking a corner while a pig's head lay on the turf only yards away from the player remains one of the defining moments of El Clasico.
One of the oddest incidents was when Inter Milan fans stole a moped, smuggled it into the San Siro, set it alight and tossed it from the second tier onto a luckily empty part of the lower stand.
During a World Cup warm up match between Chile and New Zealand, one fan evidently had the bright idea to bring his car door onto the pitch
ADVERTISEMENT
Article continues below this ad
During a UEFA Cup final between Liverpool and Alaves one fan flung a huge sex toy on the pitch. Unfazed, Robbie Fowler walked over and volleyed it back into the crowd. It wasn't the first time a Liverpool match had objects thrown on the pitch, as everyone remembers when a beach ball was thrown and Pepe Reina attempted to save the wrong ball.
This final entry involved another English side, this time it was Aston Villa, where a fan threw a cabbage at manager Steve Bruce. This took place right before Villa drew 3-3 against Preston North End. No doubt, the scoreline drove the fans even more wild, as Villa had only won one out of their last 9 games at the time. Villa went in at half-time 2-0 up against bottom-side Preston courtesy of goals from Jonathan Kodjia and Tammy Abraham. However, they bottled it and Preston came back into the game.