Could Virat Kohli have allowed Karun Nair to chase Brian Lara's record?
Published 12/28/2016, 1:39 AM EST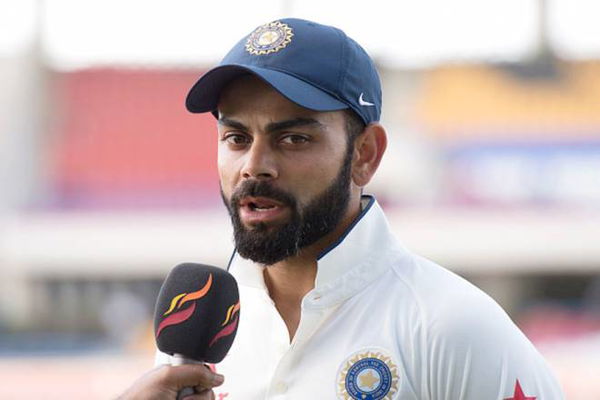 On the fourth day of the fifth Test against England, with India eventually declaring at 7/759, few experts felt that Virat Kohli should have declared a little earlier to have a few more overs to bowl on Monday evening. On the other hand, some thought that he should have allowed Karun Nair to continue to bat since it was a dead rubber.
ADVERTISEMENT
Article continues below this ad
If India had failed to bowl out England, Virat would have been blamed for the late declaration. This, in turn, would have put a question mark over Kohli's decision to let Karun Nair go for his triple-century, rather than giving India the best chance to bowl out England.
India had at least 95 overs to bowl out England. If England had finished eight or nine wickets down, Kohli would have faced great criticism. In fact, former England captain Michael Atherton and Sunil Gavaskar had already started talking about the "late" declaration on the 4th day.
ADVERTISEMENT
Article continues below this ad
After the win in Mumbai, Kohli had said that personal milestones are completely out of the "system" of the team. He said "One thing that I really wanted the team to do was express themselves in Test matches and not think about personal performances.
"Because a lot of the times, you have an hour in the Test match where you can take the game away and you are still not willing to go for it because you are close to your milestone or things like that.
"These are the things that we have gotten out of our system completely. It's a very tricky situation to give yourself 20 more overs, when they haven't bowled you out in almost 200 overs."
It was India's highest ever Test score, but that was not the reason for the delayed declaration. The reason was to provide young Karun Nair a chance of scoring a triple century.
"You don't feel like saying… This guy is close to 300 and it doesn't happen every day," – Virat kohli
This is what Virat Kohli said about allowing Karun to get his 300 before declaring India's innings.
The pitch was supposed to be placid. The majority of the experts were of the opinion that England should have been put in to bat with an hour or so remaining.
England survived the five overs they had to play. They even survived the first two hours of the fifth day and went in for lunch with all ten wickets left.
However afterwards, they spectacularly lost all ten wickets to lose by an innings. This was the first time any team lost by an innings after putting up 477 in the first innings.
Virat Kohli went on to add: "It's not like he is taking 10 overs to do it. He was hitting sixes, he was hitting fours, he was getting us a bigger lead. So it was a perfect scenario where he got us to a stage where we couldn't have batted again and at the same time, we had enough overs. If the wicket was doing enough, then those overs (95) were good enough (to bowl out England),"
The captain said. "If we have five bowlers, we should be able to knock teams off in 90-plus overs. That's exactly what we did. When we've played abroad, most of the teams have given us batting on the last day."
To be fair to Karun, he upped the ante and took just 33 balls to progress from 250 to 300.
"Good thing was Karun really stepped it up close to his milestone and he didn't take too long to get there, so it gave us five overs yesterday," Kohli said of Nair's final 100 coming of just 75 balls.
"This game is very unpredictable. After the first session I'm sure you guys weren't talking about all this. You would have said 'Oh, it's going to be a boring draw, nothing is happening'… And suddenly things happen. In Test cricket a team can lose in one session and that's exactly what happened today."
But some might argue The series was already won three-nil. Even if England drew, there was little difference to the overall series result.
Why did Virat Kohli declare early?
If Virat Kohli said that the team didn't play for personal milestones, why was Karun even allowed to score a triple century? And if he was allowed, why did Kohli declare early to score and deny Karun a chance to break Sehwag's or Lara's records?
And you have already won the series, and it's a good batting track, ideal for making and breaking records. India should have tried to break the highest team total of 952 by Sri Lanka and Nair should have tried to reach 400, because one doesn't get this chance often.
In contrast, during the first Test between Australia and the West Indies in 2015, captain Steve Smith declared his innings at 4/583 when Adam Voges was 269 not out.The declaration denied his batsman a chance to go in for a historic triple century.
As for England, they were on the field for nearly 2.5 days without much success and wickets. The concentration levels were low, mentally they were drained.
One should have seen Cooks face when a young lad takes a toil on bowlers like Broad and Rashid. After all, he had a strike rate of 79.5 which is commendable one in even ODI matches.
If victory was on Kohli's mind, he would have won the match even if he let Karun score 350. Whenever the record books would have opened, every time a batsman reached a landmark, Karun Nair's name could have been there.
Players in order to become great cricketers have to care about their feats and the mark they would leave on the game. Therefore Hayden was allowed to pursue the record and try to make 400 even though Australia had more than enough against Zimbabwe. Even Jason Gillespie scored a double-hundred because Ricky Ponting didn't declare.
Ian Chappell too waited for his own hundred as well as another from the bat of buddy Doug Walters before choosing to declare way too late in Georgetown, 1973, thereby draining the match of any possibility of a result. Joe Root and Garry Ballance scored double and single-hundreds respectively at Lord's against Sri Lanka and Alastair Cook waited for their milestones, and in the process Sri Lanka slipped through with a draw with one wicket standing…
Having heard endless debates on this topic I firmly believe had Nair batted on to break Sehwag's record or reach 350, it would have taken at least 8–10 overs more, which would have meant that it would have been Stumps on day 4.
If England started their innings on the next morning, things would have been different. The Indian bowlers got to bowl with a ball that had already been played with for 6–8 overs.
English batsmen are excellent against pace and swing, owing to their home conditions, but spin is their weakness. Virat Kohli was able to introduce spin quite early into the attack to keep the visitors under check and in the final session, Ravindra Jadeja routed through the English lineup.
Kohli would have supported Karun Nair to get to 350 if this happened on either on day 2 or day 3 in a 5 day test match. He must have thought of declaration but he did not, when he saw Jadeja and Karun nearing 50 & 250 respectively.
In fact, he waited for Karun to score 300 and I too welcomed that move. It motivates a player to keep performing well. Once he reached his mark, Virat declared.
Declaration was important at that point of time as per the obvious cited answers given by others. If there is a chance of winning a game, a team must go for it.
I would like to add that while the great Australians under Waugh and Ponting never lost sight of personal milestones, seldom was the result compromised because of it. For the great sides, individual brilliance go hand in hand with team dominance
Even Steve Smith was wrong to declare against West Indies. Australia were 583/4 in only 114 overs and were scoring at over five runs an over at this point. It was not even lunch time on the second day and time was not an issue.
Adam Voges was 269 not out in 285 balls with a strike rate of 95. His strike rate, in fact, was better than the team's.
ADVERTISEMENT
Article continues below this ad
A historic 300 was missed without any material advantage for the team and as things had it, West Indies batted for a combined 106 overs in both innings put together.
Cricket is not an individual sport
Let it be Virat or Karun or anyone in the playing 11, Cricket is not an individual game and is not played for the sake of records but for the country. It is not that individual landmarks are more important than the team's interests. They are not, and can never be.
ADVERTISEMENT
Article continues below this ad
However, when the team's interest is not hampered, there is nothing wrong in allowing a personal landmark. It may lift the morale of the individual and the team, thereby helping team interest overall.
A team plays to win and you need time to win. Individual records are a by-product of trying to win, not the primary reason to play. Here, they are representing a nation with a sentiments of billions of people like us, with a common thought in our heart – WIN and MAKE INDIA PROUD!