Counter Strike: Global Offensive: Viewer Donates Staggering Amount to Streamer
Published 07/18/2020, 2:37 PM EDT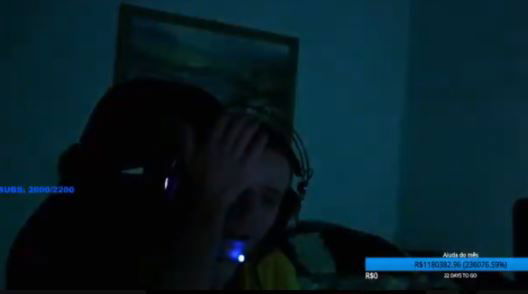 Alright, here's a piece of crazy news. A Brazilian Counter Strike Global Offensive streamer on Twitch recently received a one-time donation of 147K Euros (which amounts to 900K Brazilian Reais) on his stream. Leonardo "BRlk" Kuhn is an 18-year-old who streams in order to raise money to support his family.
ADVERTISEMENT
Article continues below this ad
This teenager lost his father at the tender age of two, but his mother shielded him from this fact until he was five. Diagnosed with clinical depression, he has had to shoulder the crushing weight of supporting his family since he was merely fifteen. , juggling work and school, Leonardo had attempted suicide as well.
A reação de quando eu vi o valor da donate, eu pensei que era um bug ou fake, depois vi que o dinheiro entrou mesmo e que nao vai ser refound…

O valor ficou alto pq o mlk é da Europa e mandou 147K euros e na conversão ficou esse valor todo
EU NUNCA VOU CANSAR DE AGRADECER🥺❤️ pic.twitter.com/VjlSq52x4h

— Brlkgames- Maior torcedor da EG (@GamesRlk) July 16, 2020
ADVERTISEMENT
Article continues below this ad
Further reading: Million New Players Resurrect Game Following Xbox Game Pass and Update
To top it all, his brother suffers from Schizophrenia and has several problems in his heart valves. Combining all the medication, both for him and his brother, makes up for quite an expenditure. It is understandable how much this family needed money.
Streaming is what he has always wanted to do
Leonardo has always wanted to become a streamer. In a household with pretty limited resources, it was his grandmother who eventually bought him a new PC. And thus started a new struggle. Inspired by Roberto "Sparda" Nascimento, who raises money for his sister's healthcare, BRlk wanted to achieve the same.
"In the beginning, they made fakes donations, donated and then reversed, but I never gave up", he told theenemy.com.br in an interview.
Unfortunately, while casing his goal of raising money, Leonardo over-exerted himself and had a heart attack when he was seventeen. Who knew then, that his life would soon be changing for the better so unexpectedly?
On July 15th, an anonymous person donated 147K Euros on his stream. He thought it was a glitch at first but it turned out to be very real. The anonymous contributor reached out to tell him it was not fake at all.
ADVERTISEMENT
Article continues below this ad
You can see his face go from a smile to disbelief and then break into tears. The boy had just stumbled onto heaven and a solution to all the monetary problems in his family. However, this is not the end for him. He will still keep streaming and raising money while securing his future and dreams. He also said that he will not be keeping all the money for himself. Instead, he will be donating a portion of it to others in need, including his inspiration Roberto "Sparda" Nascimento.
BRlk wants to become a Counter Strike Global Offensive pro player
Big figures from Rainbow Six: Siege and CS: GO have supported him in his journey. The 18-year-old is a fan of MiBr and Evil Geniuses in the CS: GO scene and aims at becoming a CS pro himself one day. But mainly, his goals are to become a successful streamer one day.
ADVERTISEMENT
Article continues below this ad
He has already become quite popular due to this big news but he can always do with even more views, right? You can catch him on his Twitch channel, still working it and trying to make it big out there.
We wish him all the best. Go get'em, tiger!