Crazy Among Us Mod Adds Nuke to the Game
Published 03/01/2021, 12:05 PM EST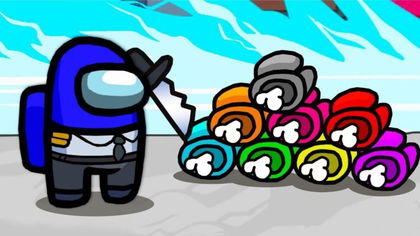 ---
---
The mod aspect of Among Us is perhaps the most interesting aspect of the game right now. The 2018 title by InnerSloth gained massive popularity last year, majorly due to the pandemic situation. Last year saw nearly the entirety of humankind stuck at home, with nothing but video games to keep them company.
ADVERTISEMENT
Article continues below this ad
Among Us emulates the feeling of enjoying party games with friends through its gameplay, the premise of which is akin to that of the popular party game "werewolf/mafia".
With its massive popularity, the community started demanding more from the game: more new roles, and new rules. The devs at InnerSloth had scrapped their work on the sequel to the title in order to add new content to the game. Last year, devs added a new map to the game.
ADVERTISEMENT
Article continues below this ad
However, the community wanted more from the game, and what better place to look for interesting alterations to a title than mods?
Usually, the mods in Among Us grant insane abilities to the role of the impostor. For instance, the recent Robot mod. But there are others that make the gameplay even trickier. For instance, the Assassin mod. However, this new Nuke mod seems to be on a whole new level.
Further reading: Can Sh1ro Take Over Counter-Strike: Global Offensive from S1mple Following IEM Katowice Destruction?
Among Us gets a new Nuke mod that allows the impostor to wreak havoc, as the name suggests
The popular YouTube content creator Ssundee recently demonstrated this mod on one of his latest videos. Ssundee has been one of the streamers who have constantly been streaming Among Us mods that grant powerful abilities to the impostor role.
ADVERTISEMENT
Article continues below this ad
The Nuke mod grants the imposter the power of detonating a nuclear bomb. The impostor has to choose a particular area in the spaceship to set the bomb off in. Note that this particular area can comprise one room or several.
Upon detonating, the bomb gives a certain amount of time to the crewmates to get themselves to safety, all the while not knowing exactly where the Nuke will set off. Not to mention the fact that the nuke will kill all the crewmates present in the chosen area.
ADVERTISEMENT
Article continues below this ad
As you can see, this mod takes the anxiety quotient of the gameplay off the charts, as you do not know who the impostor is, or where the bomb will go off. Well, another day, yet another overpowering Among Us mod!