Crazy Federer-Nadal Facts You Didn't Know
Published 09/29/2017, 12:13 PM EDT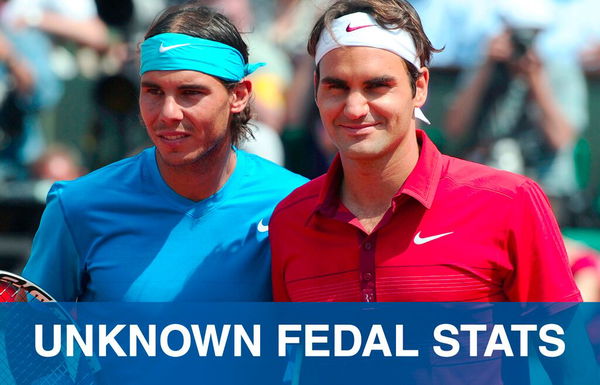 ---
---
Tennis with its high speed aces, long rallies, winners, and of course, glamour is a game that attracts a lot of fans. What makes it even better is a strong rivalry between two players owing to close, long and frequent matches. Arguably termed as the best sporting rivalry of all time, Federer-Nadal matches has provided for the best quality tennis for fans and has perhaps been the most charismatic as well. The two have dominated the men's game for more than a decade which reflects in their career statistics. Roger Federer now has 19 Grand Slams and Rafael Nadal just behind at 16.
ADVERTISEMENT
Article continues below this ad
The reason behind Federer-Nadal being the biggest rivalry in tennis is the extensive record between them. Here is a list of the respective head-to-head records these stalwarts hold against their major rivals:
Roger Federer:
ADVERTISEMENT
Article continues below this ad
(45) Novak Djokovic : 22-23
(36)Rafael Nadal : 14-23
(27) LLeyton Hewitt : 18-9
(24) Andy Roddick: 21-3
(25)Andy Murray : 14-11
Rafael Nadal :
(49) Novak Djokovic : 24-26
(36)Roger Federer : 23-14
(30)David Ferrer : 24-6
(23)Tomas Berdych : 19-4
(24)Andy Murray : 17-7
Here are the some facts about this iconic rivalry that you probably didn't know about before:
First Federer-Nadal Meeting
Roger Federer and Rafael Nadal played their first match in March of 2004. It was at the third round of Miami Masters and looked pretty one sided match on paper. At the time Nadal was just 17 years old and ranked number 34 in the world. However, the teenager played some of his best tennis to score an upset win over Federer in straight sets 6-3 6-3.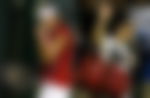 The next Federer-Nadal meeting in 2005 in Miami. Another victory looked on cards for the Spaniard as he was up 2 sets to love. The Swiss, however, managed to get back to his best and secure a comeback victory in 5 sets. The score being 2-6 6-7 7-6 6-3 6-1.
And hence began a rivalry that has not only inspired thousands of budding tennis players to be like them, but has also made an entire generation root for either of them in the years to come. Because of their prominence, tennis as a sport gained viewership like never before.
Making and breaking streaks
Roger Federer holds the record for most consecutive wins on a single surface with 65 on grass and 56 on hard courts. Rafael Nadal holds the streak on clay court with an incredible 79-2 match wins.
You might be familiar with Federer's domination, therefore these numbers just have to be mentioned!
56 hard court win streak in 2005–06 is the best in the Open Era in men's singles.
From 2005–06, Federer won a record 56 consecutive matches on hard courts before losing to Nadal in the 2006 Dubai final. Federer also holds the second longest streak on hard courts of 36 consecutive wins (2006–07). Over a period of 25 months (February 2005 – February 2007), Federer went 111–2 (98.2%) on hard courts.
65 grass court win streak in 2003–08 is the best in the Open Era in men's singles
From 2003–08, Federer achieved an all-time record 65 consecutive matches on grass courts before losing to Rafael Nadal in the epic 2008 Wimbledon final. He was extended to five sets only twice during this streak and lost a total of only 16 sets (170–16).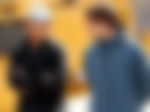 He has won the titles at the Masters Series Monte Carlo, the Open Sabadell Atlántico in Barcelona, and the Masters Series Internazionali BNL d'Italia in Rome, before losing to Roger Federer in the final of the Masters Series Hamburg in 2007. This defeat ended a noteworthy 81-match winning streak on clay.
10 Consecutive ATP World Tour Finals
Roger Federer is the only man in Open era to have had 14 consecutive appearance at the ATP World Tour Finals, reaching 10 finals and winning six of them. He stands alone in achieving this feat. He has now reached the finals at The Swiss Indoors, Basel a record 12 times. Likewise, his performances at other tournaments has been no less impressive.
| | | |
| --- | --- | --- |
| Basel | 12 finals | 7 titles |
| Halle | 11 finals | 9 titles |
| Wimbledon | 11 finals | 8 titles |
| ATP-World Tour Finals | 10 finals | 6 titles |
| Cincinnati | 7 finals | 7 titles |
| US Open | 7 finals | 5 titles |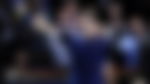 22 out of 25
From 2005 French Open, the first slam of Rafael Nadal, all the way to 2011 French Open, Federer and Nadal together won a whooping 22 Grand Slam titles out of a possible 25. The only exceptions being Australian Open of 2008 and 2011 which were won by Novak Djokovic, and the 2009 U.S. Open which was bagged by Juan Martin del Potro. Nadal went on to win 4 more French Open titles from 2012-2014 and 2017. Whereas, Federer went on to win 2012, 2017 Wimbledon and 2017 Australian Open.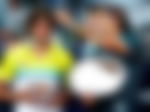 Roger's nightmare
Rafael Nadal has a head-to-head record over rival Roger Federer of 23-14 and 13-2 on the clay courts. The 23 wins over the Swiss are also the most victories Rafa has over any player in his career – it's also the most Roger has lost to any player tied with Novak Djokovic.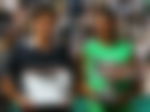 Rivalry On Clay
Out of the 37 encounters between the two, 15 have been on clay. Unequivocally Nadal is dominant on the surface. He has won 13 of those 15 matches, losing out only in Hamburg 2007 and Madrid 2009.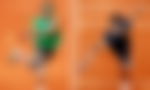 World Number 1
Roger Federer holds the record for being the world number 1 for an unprecedented 302 weeks in total, that is 5.79 years approximately. He is also the record holder for most consecutive weeks as world number 1 with a remarkable 237 weeks.
Rafael Nadal, on the other hand, is 7th in the all time list for most weeks as world number 1, with 147 weeks and 11th at 56 consecutive weeks.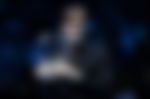 "Battle of Surfaces" Exhibition
Roger Federer's dominance on grass and Rafa's impeccable record on clay lead to an interesting idea. Federer has 8 Wimbledon (grass) titles and Nadal has 10 French Open (clay) titles, the most by any player.The two competed in a "Battle of Surfaces" match in May 2007 in which half the court was grass and the other half was clay. Both men were on record match winning streaks on their favoured surfaces as they came into the match. Nadal won the match 12-10 in the final set tie-breaker.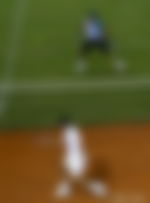 At The Final Stages
Out of the 37 matches between these two great rivals, 12 of them have been in Grand Slams. 21 matches have been played at the top tier of ATP Masters, either the 1000 Masters tournaments or the year end ATP World Tour Finals.
Only one match has been played at the ATP 500 level, which was on fast hard courts of Dubai back in 2006. Nadal prevailed with a 2-6 6-4 6-4 victory in that encounter.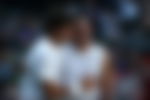 Nadal's dominance over Federer in Slams is more resounding in Slams than in other tournaments. His winning percentage against Federer outside the four Grand Slams is an impressive 58 % (14/24), but in Grand Slams this figure rises to a staggering 75% (9/12).
Breaking down the head to head
Nadal leads the head to head tally by 23-14. But, if we delve a little deeper and break it down in indoor and outdoor court matches, we find out that Federer leads Nadal 5-1 on indoor hard courts. On outdoor hard courts, Nadal holds the upper hand with a commanding 8-4 lead.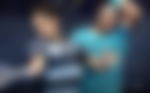 The Big Four
The big four consists of Rafael Nadal, Roger Federer, Novak Djokovic and Andy Murray. Rafa has certainly been more dominant against the Big four than his nemesis, Roger Federer. Roger has a 50-57 ( 46.7%) win-loss record whereas Rafa boasts a 64-47 (57.7%) record to outclass Roger and other two in this department.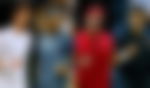 Masters of Masters
Rafael Nadal is tied with Novak Djokovic (30) for the all time record for Masters titles, followed by Roger Federer at 26.
Current Form
The last time Federer and Nadal faced each other was at Australian Open final this year which Federer won in 5 sets. This happened after fans had almost given up upon these two to make it this far in a grand slam. Though the change in the court surface might have acted as an advantage to the two but they surely proved that they have a great deal of tennis left in them.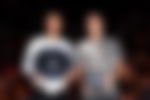 Federer went on to win his 8th Wimbledon and Nadal had his respective share of winning his 10th French Open and also the US Open.
ADVERTISEMENT
Article continues below this ad
What is in no doubt, and all tennis fans can agree on, is that we have been lucky to have witnessed two great champions in the form of Nadal and Federer to grace the tennis court for the past decade and a half; and serve up glorious matches such as Wimbledon 2008 that will live long in the memory of every tennis fan.
From 2006 to 2008 they played each other in every final of Wimbledon and French Open.  While Nadal dominated on clay, Federer on grass and hard courts. Both played every match with equal intensity and hardly any match seemed one sided. They dominated the ATP rankings for 4 years straight from 2005 to 2009. Nadal held the number 2 position for a record 160 weeks when he surpassed Federer for number 1 position in August 2008.
At one point Federer-Nadal became such a prominent factor in tennis that any final without these two was considered irrelevant. Their rivalry has been a very significant part of their careers. Moreover, the fans were always equally divided between the two. While some liked Nadal's aggression, others were in awe of Federer's class and playing style.
ADVERTISEMENT
Article continues below this ad
Despite their intense battles on court, they shared a good bond outside the game. Frequently seen together outside the court, both show immense respect for each other, often applauding each other's game, making it the most iconic rivalry in tennis history.