Ben Stokes Refers To Sikander Bakht's Tweet As "Twisting Of Words" And "Click Bait"
Published 05/29/2020, 8:59 AM EDT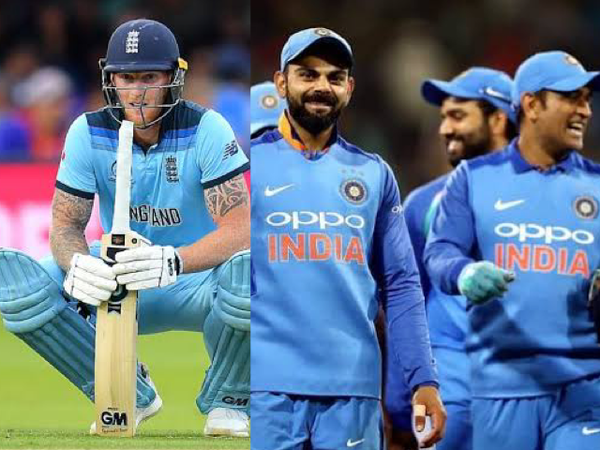 ---
---
What did Ben Stokes mean when he said that he did not see any intent from top players like Virat Kohli, MS Dhoni, and Rohit Sharma to win the match against England in the 2019 World Cup?
ADVERTISEMENT
Article continues below this ad
Here is what Ben Stokes said in his book "The Fire"
"Arguably, the way MS Dhoni played when he came in with 112 runs needed from 11 overs was even stranger. He appeared more intent on singles than sixes. Even with a dozen balls remaining, India could still have won.
ADVERTISEMENT
Article continues below this ad
"…there was little or no intent from him (Dhoni) or his partner Kedar Jadhav. To me, while victory is still possible you always go for broke.
"The way Rohit Sharma and Virat Kohli played was mystifying. I know that we bowled brilliantly well during this period, but the way they went about their batting just seemed bizarre."
Sikander Bakht interprets the text in a different way
Interestingly, it seems as though former Pakistan cricketer Sikander Bakht has completely misread the situation, or has he? Nevertheless, he took to Twitter to express his opinion about what Ben Stokes wrote in his book.
He believes that India plotted to lose the game against England so that Pakistan would not make it through to the semi-finals. Additionally, he says that some of the individuals of the team had already predicted this.
ADVERTISEMENT
Article continues below this ad
The England players takes to Twitter to clear any confusion
Obviously, a tweet like this does not go unnoticed and fans started questioning exactly where has Ben Stokes implied this was the case. Fortunately, Stokes himself responds to the query saying that he did not ever say anything as he being accused of. On top of that, he termed Bakht's action as "twisting of words" or "click bait".
ADVERTISEMENT
Article continues below this ad
No one knows what was discussed amongst the Indian team but knowing players such as Dhoni or Kohli, it is highly doubtful they lost a game on purpose. All teams have their ups and downs and the pressure to perform during a World Cup can be overwhelming. In this situation, team India should be given the benefit of doubt.