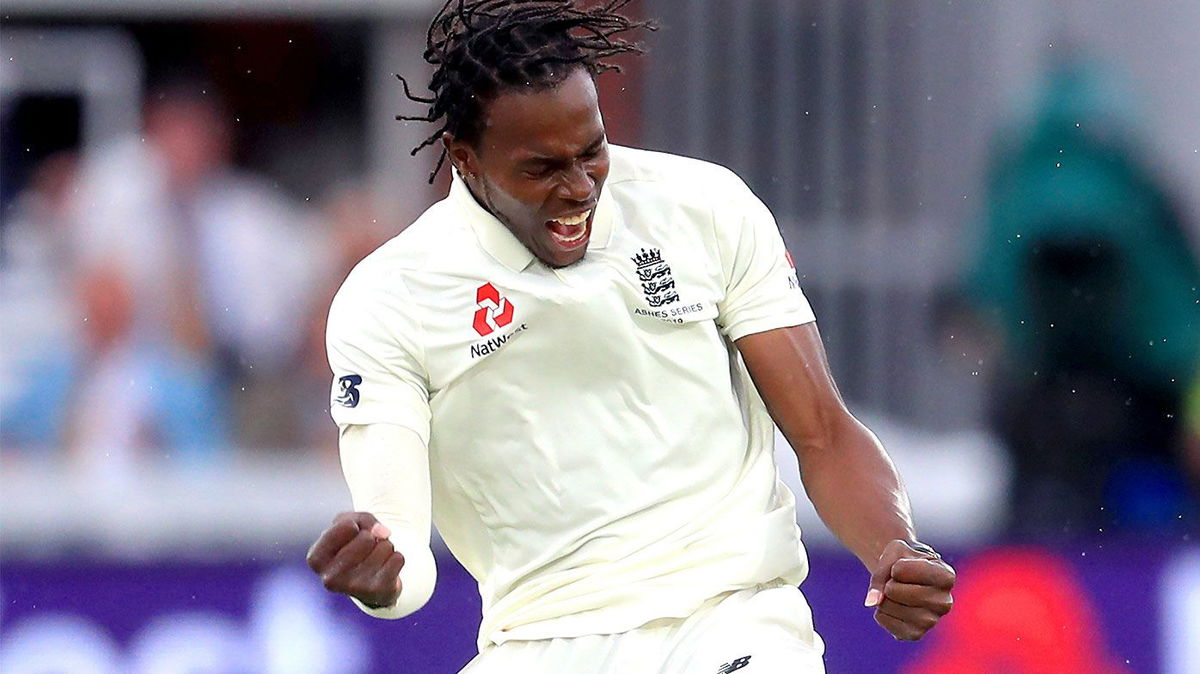 The England pacer Jofra Archer turns 25 today (April 1). The cricketer started playing for England in April 2019. However, he ended up fixing his place in the team by bowling the famous super over that won England its first-ever cricket World Cup in 2019. Archer is celebrating at home with his family while quarantining.
On this special occasion, the official Instagram handle of England Cricket team wished Jofra by posting an amazing video. The video includes clips of Archer's wonderful bowling in different matches. 
England Cricket uploaded the video with the caption, "Happy Birthday @jofraarcher #englandcricket #birthday" 
After the World Cup 2019, Archer went on bowling some fascinating spells in Ashes 2019. He has been proving his talent with every single match. 
The cricketer is also famous for making predictions about upcoming matches. He often tweets random things which get somewhat close to reality in the future. Archer predicted the result of the semi-final match between England and Australia in World Cup 2019 in 2014. As a result, he trended a lot of social media platforms last year.
Here're some tweets wishing Jofra Archer
Many prominent personalities and teams like Marcus Rashford, Andrew Miller, Sussex Cricket and Edgbaston wished the bowler on his special day on twitter. Also, the IPL team Rajasthan Royals wished their player with a cool caption.
Happy birthday bro @JofraArcher ♥️ pic.twitter.com/ZjXrdE5Eve

— Marcus Rashford (@MarcusRashford) April 1, 2020
Happy birthday @JofraArcher! Eternally robbed of a dot ball … #CatCricket pic.twitter.com/OJBakseroH

— Andrew Miller (@miller_cricket) April 1, 2020
A @JofraArcher themed #WallpaperWednesday on his birthday! 😇 pic.twitter.com/pNg0ptVT8e

— Sussex Cricket (@SussexCCC) April 1, 2020
Welcome to the Royals AMA – Jofra edition! 👋

Leave a question for us using #AskRoyals and we'll answer with the birthday boy's tweets. 😎 #HallaBol | #RoyalsFamilly | @JofraArcher

— Rajasthan Royals (@rajasthanroyals) April 1, 2020
Happy Birthday, @JofraArcher! 🎂#Edgbaston pic.twitter.com/p7FlJDWxIl

— Edgbaston (@Edgbaston) April 1, 2020
What an extraordinary 12 months it has been for this lad, Happy Birthday Jofra Archer!

Can you think of anyone who has had a more dramatic start to their International career? #lovecricket #cricket #OnThisDay @JofraArcher pic.twitter.com/J5Hr5sgr6N

— The_Nightwatchman (@NightwatchmanXI) April 1, 2020
Jofra Archer's comeback on the field
Jofra Archer was ruled out from the IPL 2020 by ECB due to his elbow injury. However, the tournament has been postponed for the time being in the wake COVID-19 crisis. The fate of the league is still uncertain. 
If the IPL happens this year, then Jofra can came a comeback in his IPL team. Archer plays for the IPL franchise Rajasthan Royals. The Rajasthan Royals picked the bowler in IPL 2018 for a yearly fee of Rs 7.2 cr. Archer has been retained by the team subsequently from the past two years for the same price. 
Read More: Did Jofra Archer Predict the Coronavirus Outbreak Situation Way Before Anyone?