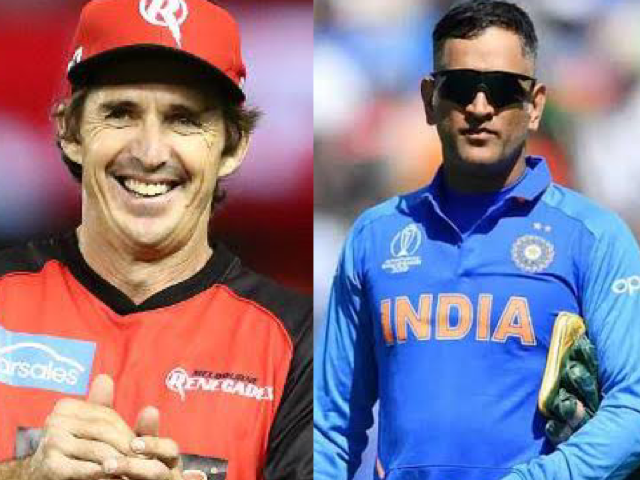 The world is at a virtual standstill due to the Coronavirus outbreak. Now, with everyone in self-isolation, there is no way to interact with celebrities. However, a number of people are taking to Twitter to ask questions and are receiving responses as well. Recently, Brad Hogg answered a question about MS Dhoni on Twitter.
MS Dhoni would have marked his comeback to the field during IPL 2020
MS Dhoni has not been on-field since the 2019 World Cup semi-finals. He took a sabbatical and trained with the Indian army. Now, the IPL 2020 was supposed to be his comeback. Unfortunately, there is a high chance the tournament will move forward in 2021.
Coming to the question, a Twitter user put forward the question about Brad Hogg's opinion about Dhoni's future. The question is about whether MS Dhoni should retire from International Cricket or not.
@Brad_Hogg What u think, If IPL 2020 cancelled, Dhoni should retire from International cricket.

— Prashant Kumar Mahto (@prashantmahto11) March 26, 2020
This is a question that is on the minds of most of Dhoni's fans. While he is a great player, his absence from the field spans over a considerable time. The rumours about his retirement started to circulate at an accelerated rate when BCCI released the contracts for the season and Dhoni's name was not included.
Now, MS Dhoni was supposed to leading the Chennai Super Kings during Indian Premier League 2020. In fact, speculations did make rounds that IPL 2020 is where the selection committee for T20 World Cup will judge Dhoni's form.
Brad Hogg comments about Dhoni's retirement
Nevertheless, Brad Hogg did come forward with his opinion about Dhoni's future. He says that Dhoni is a man with a calm and composed mind. Hence, he knows what he wants and will move on to achieve that. However, Hogg believes that Dhoni still has a few rounds left in him for India.
Speculation, I don't think he will announce it, he seems pretty calm about things & moves onto the next thing he needs to accomplish. It's been an entertaining career, let's enjoy what he has done! I feel he may have one more burst in the next 2 years for India. #Hoggytime https://t.co/QTYaoURRNB

— Brad Hogg (@Brad_Hogg) March 26, 2020
Additionally, Hogg is not the only who believes Dhoni is still capable enough to play for the Indian Team. His childhood coach, Keshav Ranjan Banerjee feels the same way. Banerjee feels that MS Dhoni will definitely be a part of the T20 World Cup squad.