" I realised I had done a big thing" – Bhuvneshwar Kumar Recalls Dismissing Sachin Tendulkar
Published 03/21/2020, 1:40 PM EDT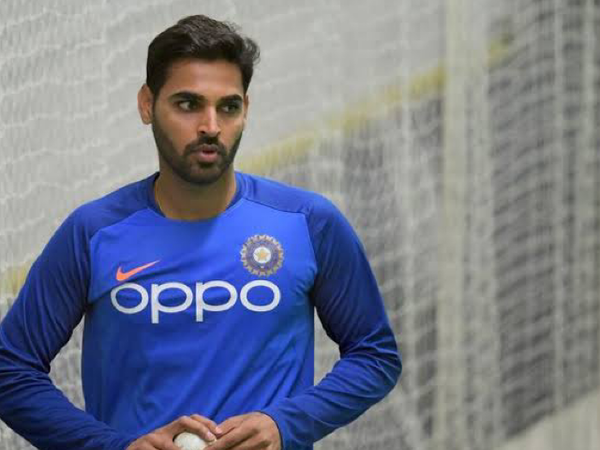 ---
---
Indian bowler, Bhuvneshwar Kumar, is now a renowned player. However, it took a really great dismissal to get everyone to notice him. This moment is back during the 2008-2009 Mumbai Ranji Trophy season. The young player dismissed none other than Sachin Tendulkar.
ADVERTISEMENT
Article continues below this ad
Bhuvneshwar Kumar comes under spotlight after dismissing Tendulkar
The medium-fast bowler delivered an inswinger to Tendulkar. This delivery hit the Master Blaster at a deep pad position. This dismissal brought him under media and the selection committee's attention. Therefore, in just a matter of four years he finds himself playing with the Indian team.
ADVERTISEMENT
Article continues below this ad
"When he came to bat, from the dressing room to the ground, I was at the bowling mark. I was watching him, and I couldn't keep my eyes away from him."
Bhuvneshwar Kumar says that initially it did not strike him. However, eventually realisation hits him that it was Sachin Tendulkar he has dismissed. He admits that now he understands every opportunity he has received till now is a ripple effect of that one. He started off with playing the limited-overs against Pakistan in 2012. Following that, after six months he received a call to play against Australia with the Indian cricket Team. His performance did take a dip when he played against England. However, he pushed himself further with a proper workout and practice routine to become who he is today.
Kumar recalls how he had to learn from experience moving forward
He recalls that the experience against England team taught him a number of things. It was during this series where he understands the trick to manage fatigue. Considering it was five-match series instead of three, he could not keep his energy up after the third match.
I started giving out runs, after which the time to change something had come. I felt I needed to increase my pace. It also happened that I got injured and it took time to come back from it. My bowling didn't have that rhythm, things weren't going too well."
Upon his return, he continued to practice. He says that it is very important to keep the belief. Considering his pace increased, it took him 1-2 series to adjust his bowling. However, even during such times it is important to ignore the negative remarks.
ADVERTISEMENT
Article continues below this ad
ADVERTISEMENT
Article continues below this ad